Notebook: Richardson handles the load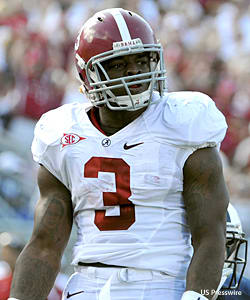 TUSCALOOSA | Trent Richardson has gotten back his early-season rushing partner in Eddie Lacy. But while Lacy was recovering from a foot injury, the University of Alabama junior showed he is more than capable of shouldering a larger share of the rushing load.
Richardson's career-high 29 carries against Florida Oct. 2 resulted in what was, at the time, a career-high 181 yards, while Lacy took a season-low five carries. A week later against Vanderbilt, Lacy did not play, and carried just five times against Ole Miss Saturday. Yet Richardson has thrived, rushing for nearly 300 yards against the Commodores and Rebels combined.
"With Eddie being a little injured here the last few weeks, he's had to carry a little more of the workload," UA coach Nick Saban after the Ole Miss game. "But the one thing about him is, it seems like the more he runs it, the better he runs it. And it wears the other team down a little bit."
Richardson carries a school record-tying streak of six consecutive 100-yard games into Saturday's home contest against rival Tennessee. And he said he's feeling far better physically than he did at the same point in the season last year.
"This year, I'm just more fresh. I have to give a shout-out to the training room downstairs," Richardson said. "They do a really good job and keep us prepped up and ready for the game the next week. I used to not like going to the rehab room, but I stay in there now and make sure my body stays as healthy as I can."
Saban said that, much like Richardson, the UA offensive line plays a brand of football that also wears down opponents.
"We're probably a little more Joe Frazier-like than Muhammed Ali," Saban said. "You don't see much dancing around out there. We go toe-to-toe."
High praise
The UA offensive line gets a good at look at the Crimson Tide's young defensive linemen each week in practicing against the scout team. And center William Vlachos is convinced that, in time, they will form a formidable group.
"Our scout team is better than some of the teams we've played this year, guys like (D.J.) Pettway and (Wilson) Love and (Brandon) Ivory and LaMichael Fanning are really talented guys that are just young," Vlachos said. "They're biding their time just like most people have to do. But they're really taking advanatage of the reps to get better against us. It's just making us better, it really is. They're a special group of players.."
Tennessee defensive lineman Malik Jackson, one of the Volunteers' top players, is among those the scout team is mimicking this week in practice.
Did you know?
Linebacker Dont'a Hightower needs only 11 more tackles to reach 200 for his career. Safety Mark Barron is UA's active career tackle leader with 202, followed by Hightower and Courtney Upshaw (109).
Quotable
"He's definitely a players' coach. He has a great
relationship with everyone that we have and he's certainly leading us in the right direction and I think it's showing on the field." - Receiver Brandon Gibson on first-year receivers coach Mike Groh.
On the opponent
Tennessee receiver Da'Rick Rogers has been one of the top pass catchers in the league this year with 35 receptions for 576 yards and six scores. ... Volunteers linebacker A.J. Johnson leads all SEC freshmen in tackles per game at 5.3. ... UT has converted 54.3 percent of third downs this season (40 of 71), which ranks fifth in the nation.
Reach Chase Goodbread at chase.goodbread@tuscaloosanews.com or at 205-722-0196.