Notebook: Jones has record-setting game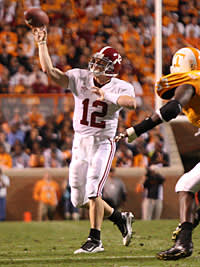 KNOXVILLE, Tenn. _ Less than two weeks after having surgery to repair a fracture in his left hand, junior wide receiver
Julio Jones
showed just how effective he can be even with a wounded wing.
He merely set the Crimson Tide record for receiving yards in a single game with 221 on Saturday, and his 12 receptions were second behind D.J. Hall's 13-catch performance in 2007, also against Tennessee.
"I was waiting for that to happen," sophomore safety
Robert Lester
said about Jones.
Jones had eight receptions for 107 yards in the first half alone, including a 42-yard sideline catch when the Volunteers left in man coverage, en route to setting career highs in both categories. His previous career high for receptions was nine in last year's Auburn game, and he had 128 yards at LSU in 2008.
Most receiving yards in a game
Yards, name opponent (receptions), date
221 Julio Jones at Tennessee (12 catches), Oct. 23, 2010
217 David Palmer at Vanderbilt (8 catches), Sept. 11, 1993
187 David Bailey vs. Auburn (9 catches), Nov. 29, 1969
185 DJ Hall vs. Tennessee (13 catches), Oct. 20, 2007
173 Toderick Malone vs. Georgia (8 catches), Oct. 1, 1994
171 David Palmer vs. Mississippi State (8 catches), Nov. 13, 1993
159 Dennis Homan vs. Florida State (6 catches), Sept. 23, 1967
158 Ken MacAfee vs. Villanova (6 catches), Oct. 12, 1951
158 Siran Stacy vs. Tennessee (9 catches), Oct. 21, 1989
157 Antonio Carter vs. Mississippi (8 catches), Oct. 14, 2000
157 DJ Hall vs. Utah State (11 catches), Oct. 29, 2005
Here are Jones' top games in receiving yards.
221 at Tennessee (Nov. 23, 2010), W
128 at LSU (Nov. 8, 2008), W
124 vs. Florida (Dec. 6, 2008), L
106 at Duke (Sept. 18, 2010), W
103 at Tennessee (Oct. 25, 2008), W
102 vs. LSU (Nov. 7, 2009), W
Jones also became just the third player in Tide history to reach 2,000 career receiving yards and moved into second on the Alabama all-time list.
2,923 D.J. Hall (194 catches), 2004-07
2,189 Julio Jones (146 catches), 2008-present
2,070 Ozzie Newsome (102 catches), 1974-77
1,859 Freddie Milons (152 catches), 1998-01
1,857 David Bailey (132 catches), 1969-71
1,863 Keith Brown (117 catches), 2004-07
1,611 David Palmer (102 catches), 1991-93
1,568 Curtis Brown (106 catches), 1991-95
1,495 Dennis Homan (87 catches), 1965-67
1,386 Joey Jones (71 catches), 1980-83
Injuries and starters
Junior
Alfred McCullough
made his second straight start at right tackle. Redshirt freshman
D.J. Fluker
(groin) was his backup. Junior
Phelon Jones
played star in nickel formation with junior defensive back
DeQuan Menzie
hindered by a groin injury that got worse as the week progressed.
Sophomore
Kerry Murphy
started at defensive end. Junior receiver
Marquis Maze
returned punts for Jones again. Junior defensive end Marcell Dareus said his foot/ankle was sore but was otherwise fine.
Redshirt freshman Eddie Lacy (knee) did not make the trip.
McElroy on another streak
By attempting 32 passes without having an interception Saturday senior quarterback
Greg McElroy
extended his string of passes without a pickoff to 121, which dates back to the second quarter at Arkansas. That's the sixth longest string in Alabama history and he already has two of the top five:
1. 190, Brodie Croyle, 2004-05
2. 155, Jay Barker, 1993-94
3. 149, Greg McElroy, 2009-10
4. 141, Greg McElroy, 2009
5. 135, Freddie Kitchens, 1997
McElroy entered Saturday's game averaging one interception every 54 attempts and was the Southeastern Conference's career leader in that category, one per 63.4 attempts.
He also moved into sixth on the Alabama career pass completions list and seventh in career passing yards.
Tide-bits
Alabama finished 2-1 against the Eastern Division, but is one of only two Western teams to lose against an East opponent this season. Overall the division is 11-2, with the losses Alabama at South Carolina and Vanderbilt at Ole Miss.
Alabama brought 12 offensive linemen including true freshman
Arie Kouandijo
, but had just four running backs with Mark Ingram, Trent Richardson, Demetrius Goode and Jalston Fowler. True freshman tight end
Brian Vogler
made the trip and like Kouandijo hasn't played in a game.
For the first time in a long time Alabama is averaging more fans per home game than Tennessee. Coming into Saturday's game, which drew 102,455, the Tide was averaging 101,821 in attendance (fourth most in the nation), compared to 99,699 for the Vols (sixth). Incidentally, Saban made a point to tell reporters that he's never had as much supportive crowd noise on the road.
Tennessee unveiled its new Techfit compression football jerseys, which is basically the adidas version of the Nike combat jerseys. The Tide will wear those against Mississippi State. ... Hubert Owens' crew officiated the game, with Doyle Jackson the replay official. ... Team captains: Dareus, Dont'a Hightower and David Ross.