Nick Saban previews quarterback battle as spring practice begins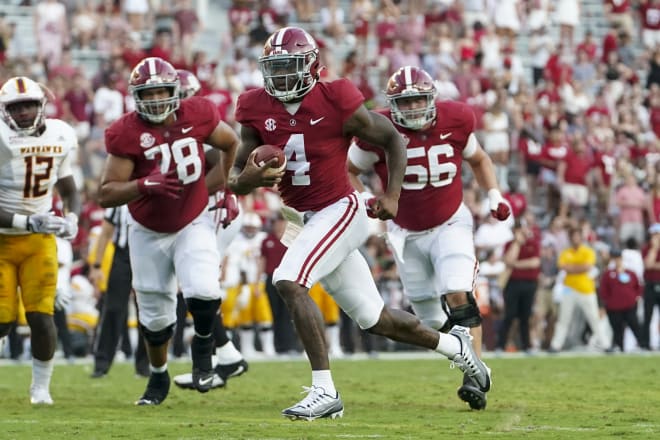 TUSCALOOSA, Ala. — For the first time since 2020, Alabama will not have a sure-fire starting quarterback.
Coming into the spring the Crimson Tide will have a quarterback battle to figure out who will take over the duties of the vacating Bryce Young. Young, who threw for over 8,300 passing yards during his college career, leaves behind huge shoes to fill by either Jalen Milroe or Ty Simpson.
With spring practice getting underway, Alabama head coach Nick Saban opened up about the competition during his Monday press conference.
"Look I think everybody has an opportunity," Saban said. "None of the guys have a significant amount of experience. I think Jalen played one game, half a game where he really had to play a game and he made a lot of plays. He made plays in a different way than Bryce made plays. Ty, who made significant progress throughout the year but never really had much of an opportunity to play in critical situations in a game, is also someone that we think has developed and made a lot of improvement and has a lot of potential to be a pretty good player."
Milroe comes into camp with a head start over Simpson, who came in relief of Young when he suffered a shoulder injury against Arkansas. Against the Razorbacks, Milroe secured a 49-26 victory thanks to his 91 rushing yards and a touchdown. He'd have four more appearances in the 2022 campaign and threw for 297 yards and five touchdowns.
Simpson had a much smaller sample size tossing for 35 yards in his three games but a new offensive coordinator may level the playing field slightly for the sophomore. While all eyes are on Milroe and Simpson, Saban also included Dylan Lonergan and Eli Holstein in the race, but behind the two returners.
"We got two young freshmen that probably have a long way to go but they're eager to learn and they're eager to try and improve and get a better understanding of what we need to do," Saban said. "Development at that position is really gonna be a critical thing for our team this year because I like the players that we have around them."
Saban hired a new offensive coordinator to oversee the development of the quarterback quartet, bringing former signal-caller Tommy Rees. Rees threw for over 7,000 yards in his four-year tenure at Notre Dame but had to go through two quarterback battles.
After losing the starting job in 2012, Rees won it back the following year. Saban said Rees' experience as a Power-Five quarterback plus his experience working as an offensive coordinator later made him a good fit in Tuscaloosa.
"I think the most important thing is not young, not old: good; effective; good teacher; good quarterback coach can develop quarterbacks; can help them sort of learn and grow at the position. I think that was one of the critical factors in the search for a new coordinator was the guy would be a really good quarterback coach and has a history of being able to develop quarterbacks. I think we did that."