NFL Combine notebook: Branch dreams of teaming up with Fitzpatrick in NFL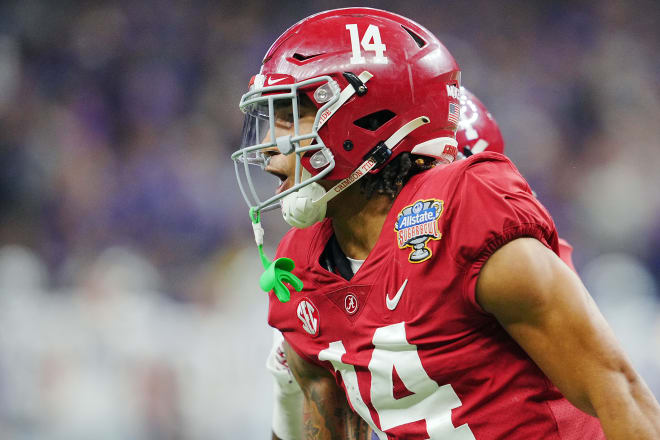 Former Alabama defensive back Brian Branch is hoping to follow in Minkah Fitzpatrick's footsteps in the NFL. In fact, depending on how next month's NFL draft shakes out, he wouldn't mind joining the Crimson Tide standout with the Pittsburgh Steelers.
"It's something I dreamed of, have visions of when I sleep," Branch told reporters at the NFL Combine in Indianapolis when asked about the possibility of teaming up with Fitzpatrick at the next level. "Just being able to play alongside a player like that is big to me."
Since being selected No. 11 overall by the Miami Dolphins in the 2018 NFL Draft, Fitzpatrick has earned first-team All-Pro honors three times. Last season, he finished tied for the NFL lead with six interceptions go with 11 pass deflections.
While Branch and Fitzpatrick never played together at Alabama, the two both excelled at the Star position for the Crimson Tide.
Fitzpatrick has moved primarily to a deep safety role for the Steelers but is still capable of playing in the box. Thursday, Branch said he compares his game to the former Chuck Bednarik and Jim Thorpe Award winner, stating he feels he can bring similar versatility to the next level.
"I love his game," Branch said. "The way he is able to play every position in the back end and do it at a high level, I think I've been able to do that at Alabama."
Branch has told NFL teams he feels comfortable playing anywhere in the secondary and said he feels his versatility is one of his biggest selling points heading into the draft. Of course, last year's production won't hurt his draft stock either.
The 6-foot, 193-pound defensive back is coming off a stellar junior season in which he led the team with two interceptions while finishing second with 14 tackles for a loss, just three behind projected top-five pick Will Anderson Jr. Branch also ranked third on the team with 90 total tackles and led all college defenders with a 91.8 tackling grade, according to Pro Football Focus.
"When I take the field its almost like I'm alowed to release a sort of an anger that's legal anger that I can't do on an everyday basis," Branch said. "When I get onto the field and I'm able to make contact, doing that makes me able to express myself and just have fun really."
Branch said he has already held several formal interviews with NFL teams while taking part in this week's NFL Combine. That includes Steelers head coach Mike Tomlin, who he met with Monday.
"Coach Mike Tomlin is a definite players' coach," Branch said. "I love that about him. He connects with his players."
Branch is currently projected to be selected in the middle of the first round of next month's draft. For what it's worth. Pittsburgh holds the No. 17 overall pick.
Pittsburgh holds the No. 17 pick in the first round of next year's draft.
Ricks won't partake in NFL Combine drills
NFL Scouts will need to wait a little longer if they want to watch former Alabama cornerback Eli Ricks partake in defensive back drills.
The 6-foot-2, 190-pound cornerback said Thursday that an injury will keep him out of drills at the 2023 NFL Combine.
"Unfortunately, I'm not doing anything at the Combine," Ricks said. "I have a Grade 2 (hamstring) strain I'm shaking back from. But at pro day, I will be doing everything, and I expect to surprise a lot of people, to be honest. I've seen some of the projections of my running and stuff like that, so I think I'm gonna surprise some people."
Ricks said he's still going to meet with teams this week.
The Rancho Cucamonga, California native played in nine of Alabama's 13 games this season. Due to a labrum injury, he suffered at LSU, Ricks began the year as a backup to Terrion Arnold.
After rotating in through the first four games and not appearing in the next three, Ricks earned his first start since 2020 when he played opposite of Kool-Aid McKinstry against Mississippi State.
He would go on to start in five of the last six games, including Alabama's Sugar Bowl win, tallying 13 total tackles, one tackle for loss and four pass breakups.
While Ricks admitted it took him some time to get back into football shape, he noted the transition from LSU to Alabama and learning a different defense should help his adjustment to the NFL.
"I know the things that I have to work on myself. I know my footwork and my press technique because when I get to the NFL, I'm gonna have to learn new techniques," Ricks said. "Technique was different from LSU to Bama, so I know when I go to the NFL, I'm gonna have to learn even more wherever I go."