McCarron has a big impact beyond the field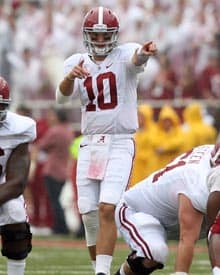 TUSCALOOSA | To more than 100,000 fans at Bryant-Denny Stadium, AJ McCarron is the University of Alabama's quarterback.
But to a group of firefighters in Mobile, he's more like an adopted son.
To NASCAR driver Kurt Busch, McCarron's a fan himself.
And to shoe stores, he's a great customer.
The junior from Mobile has become one of the college football's most recognizable figures as the signal-caller for the defending national champions. But to those closer to him, he's a lot more than a quarterback.
To Starla Chapman, he's a hero.
Making a difference
Last Christmas Eve, just a couple of weeks before he led a 21-0 win over LSU in the BCS Championship game, McCarron met Chapman at Mobile's USA Children's and Women's Hospital. He brought the 3-year-old Leukemia patient some Christmas gifts, but McCarron said he took more from the meeting than she did.
"Her parents always say I was a blessing going into her life, but I think it's reversed, really," McCarron said.
Starla gave McCarron one of her support bracelets the night they met, and he wears it on a regular basis. He delivered on a promise to wear it during the BCS title game against LSU, and the tie-dye colored bracelet was on his wrist this week after Tuesday's practice.
"He's always been a tender-hearted kid," said McCarron's mother, Dee Dee Bonner. "When we used to come home from his practices and passed someone hungry on the street, he and his brother (Cory) would want to stop and get them something."
Chapman, diagnosed about a year ago, has been through chemotherapy and even a medically-induced coma. When McCarron was released from the hospital in January after a shoulder surgery, he wasted no time visiting Chapman, who was coming out of her coma at the time. Recently, Chapman's parents named McCarron as Starla's godfather.
"She's such a special, sweet little girl. I wear her bracelet every day, so I love her to death. She's doing great," McCarron said.
Fired up
On fall Saturdays, they start the grill early down at the Melton Fire Station in Mobile, and the boys of Engine 8 cross their fingers that there will be no fire calls when the Crimson Tide takes the field.
Some are Alabama fans, maybe some aren't, but they're all AJ McCarron fans.
He's one of theirs, after all.
Although McCarron's father, Tony, works at a different station now, his son's following among Mobile firefighters isn't limited to the Melton station. But that's where Dana Tanz and the rest of the crew helped build up the arm strength McCarron takes to the football field today.
"As a kid, AJ came to the fire station to visit quite a bit. He would literally pull one of us out at a time, into this parking lot here at the fire station. Whatever kind of ball he had in his hand, that kid would throw it for an hour solid or more," said Tanz. "When our arms got tired and we went inside, he'd come in and grab the next guy with a fresh arm and pull him right back out there, ... We watched that process year after year."
In some ways, McCarron grew up in the firehouse.
His grandfather on Dee Dee's side of the family was also a fireman. He has washed his share of firehouse dishes as what Tony calls the "low man on the totem pole." The firefighters are a tight-knit group, and by extension, so are their children. According to Tony, the kids call each other cousins, even absent any blood relation. And when McCarron initially got his scholarship offer from UA coach Nick Saban, Tanz and his son were right there in Saban's office to hear it, having joined the McCarrons on a visit.
"We weren't expecting it, Tony wasn't expecting it, because AJ hadn't even started his junior year," Tanz said. "Tony and I were literally floored. AJ just sat there without too much excitement. I don't think he knew what to say. My son was in there with us and I didn't notice he was tossing coach Saban's LSU crystal football around from the championship there. Coach Saban didn't say a word to him. I had a heart attack when I looked over, even though it was a replica."
Still today, McCarron will pay a frequent visit to the firefighters when he's home from school.
"I know on Friday nights they'll build up a fire out back in a little pit and we'll sit around and just tell old stories and everything. It's just fun," he said. "When everything gets too much around here, football in itself, it kind of just brings you back down and lets you get a good laugh out of everything else going on back home."
More than a football player
For the starting quarterback on college football's No. 1-ranked team, McCarron has always had a diversity of interests that go beyond throwing a football.
Athletically, he was a three-sport athlete at Saint Paul Episcopal School in Mobile, and unlike most prep athletes these days he stuck with all three - baseball, football and basketball - all the way through his senior year there.
Colorado State head coach Jim McElwain, McCarron's offensive coordinator at UA until this season, believes that helped his rise to the Crimson Tide's starting role.
"You learn to compete, and you're competing year-round. Sometimes these guys that travel around with these camps and all that stuff, you're not as much learning how to compete," McElwain said. "It's almost like you become a drill guy and you forget how to react when live bullets are flying. I think playing other sports in high school is valuable."
Away from sports, McCarron likes to jet-ski.
He is also a major NASCAR fan, and has had occasion to meet some of the sport's elite drivers, including Kurt Busch and Clint Bowyer. He's seen races at tracks from Indianapolis to Talladega to Daytona, and grew up frequenting the local track in Mobile with his grandfather, who raced some himself.
Then, there is the shoe obsession.
"He's probably got 75 pairs of tennis shoes I'll bet. He's a shoe freak," said Tony McCarron. "I asked him if he knew Imelda Marcos and he didn't have a clue who that was."
"That's my fault, I guess" added Dee Dee. "He gets that from me."
Reach Chase Goodbread at chase@tidesports.com or at 205-722-0196.

Click
Here
to view this Link.