Louisiana native Isaiah Buggs facing criticism from LSU fans this week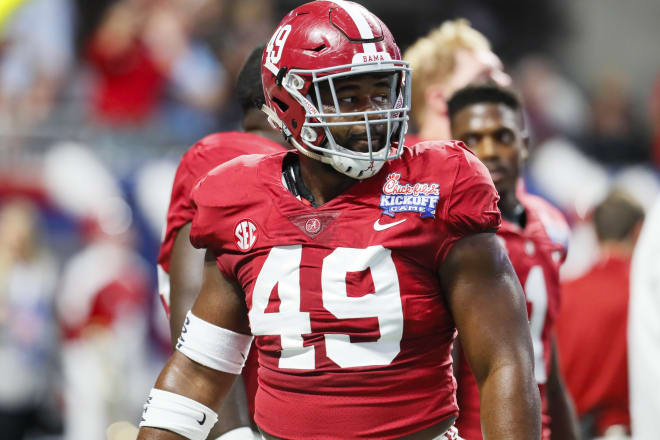 TUSCALOOSA, Ala. — Isaiah Buggs and Raekwon Davis have been teased relentlessly this week by their teammates. The two defensive linemen heavily considered committing to LSU before eventually joining the Crimson Tide. Heading into Saturday's matchup against the Tigers, that's not something their current teammates are willing to let them forget.

"We try to make fun of them a little bit about it," defensive tackle Da'Ron Payne said. " I just know they're going to be ready to go Saturday."
The ribbing has been especially directed at Buggs, a native of Ruston, La., who was considered an LSU lean before committing to Alabama last December. Buggs, the No. 1 JUCO recruit in the 2017 class, has turned out to be one of the Crimson Tide's biggest signings from this year's class.
The 6-foot-5, 293-pound defensive end has filled in nicely for injured starter Da'Shawn Hand the past three games and is currently fourth on the team with 32 tackles. Those are numbers that LSU wouldn't mind having on its side Saturday. Naturally, that has led to Buggs receiving some grief from LSU fans this week.
Unfortunately, it hasn't been as good-spirited as the digs from his teammates.
"Woke up this morning to horrible messages from Louisiana fans," Buggs tweeted from his personal Twitter account "how could you wish such bad things on players, like i just don't get it."
That led to several different reactions. Buggs received responses from Tigers fans, ranging from "That doesn't represent everyone," to "You knew what you signed up for... deal with it."
Buggs is one of several Louisiana natives on Alabama's roster. He also hails from North Louisiana, an area which Alabama head coach Nick Saban and his staff have dominated in recent years.

"I think that it goes all the way back, 15 years ago or how many years ago that we went to LSU," Alabama head coach Nick Saban said on the SEC Coaches Teleconference Wednesday. "At that time LSU wasn't getting a lot of the players in north Louisiana and we developed a lot of relationships, tried to turn that around.
"We still have a lot of good relationships. It's a little closer to here than other parts of the state. I think they've got some great programs in north Louisiana, some great coaches. They've always had great players, historically through the years. We've been fortunate to get a couple of those players to come to Alabama and they've done a really good job for us."
Buggs isn't the only North Louisiana native to experience success this season for Alabama. Safety Hootie Jones and receiver Cam Sims are both starters and hail from Monroe, La. However, given how close Buggs seemingly came to committing LSU, his decision to leave the state has rubbed some the wrong way.
That was even apparent during LSU head coach Ed Orgeron's appearance on the SEC Coaches Teleconference. Orgeron was asked about both Buggs and Davis, two players whom he recruited to come to LSU. The head coach started by praising Davis, stating that he loved him and that he "was close to that boy." Orgeron even went as far as to predict the 6-foot-7, 315-pound defensive end as a future first-round draft pick in the NFL.
However, when it came time to talk about Buggs, his tone changed entirely.
"Isaiah Buggs was committed to us," Orgeron said. "We took a chance on him. He was 230 pounds, he went to junior college and he (bulked) up to about 280. We wanted him on our football team. He was from Louisiana, but he decided not to come."
Whether the Tigers like it or not, Buggs will be wearing Crimson when No. 2 Alabama faces No. 19 LSU on Saturday at 7 p.m. inside Bryant-Denny Stadium. It's a game the junior is eagerly awaiting.