Looking back at the 2009 season, part I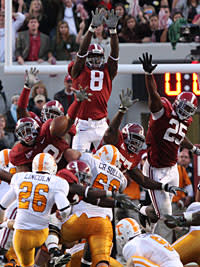 Did it really happen?
Many fans can't help but have that feeling a little bit even a month after the University of Alabama football program capped off the 2009 season at the pinnacle of college football and brought the Capstone its 13th national championship.
A perfect 14-0 season, the victory over Florida in the Southeastern Conference title game and the Heisman Trophy. Yeah, the faithful can be excused for still waking up and having "pinch me" moments.
So as part of the build up to spring football, which officially begins March 12, we're going to spend a good part of the next month looking back. Specifically, starting next week we're going to revisit the postgame "Upon Further Review" columns and refresh your memory of each play, player, hit and stat of the game. Then on the message board we're going to hold a poll to find out which BOL readers liked most.
However, that's next week. For this week, here's each "Did you notice?" from all 14 games.
Virginia Tech: Junior quarterback Greg McElroy was in obvious discomfort after the play Tech was called for pass interference in the third quarter due to taking a hard hit and possibly a helmet to the ribs from linebacker Cody Grimm. By our count, McElroy took more than a dozen hard hits in the game.
Florida International: Senior nose guard Terrence Cody was in the backfield along with junior tight end Preston Dial on sophomore running back Mark Ingram's 2-yard touchdown run to cap the Tide's most impressive drive. Keyed by senior Mike McCoy's 35-yard catch and Ingram's 16-yard carry, Alabama went 69 yards on five plays to quickly answer FIU's lone touchdown drive.
North Texas: North Texas executed just four plays in Alabama territory, the first with 2:57 remaining in the third quarter. Also, the entire game was played in two hours, 52 minutes, thanks to the teams combining for only 27 offensive plays in the fourth quarter, 24 of which were runs.
Arkansas: On sophomore receiver Julio Jones' final reception, for 15 yards, all 11 Arkansas defenders were in on the tackle.
Kentucky: Senior defensive end Brandon Deaderick made his first start of the season roughly a month after being shot during a botched carjacking.
Ole Miss: Alabama didn't have a sack.
South Carolina: During Mark Barron's 77-yard interception return for a touchdown, when the sophomore safety got down inside the South Carolina 30 he still had senior cornerback Marquis Johnson, senior linebacker Cory Reamer, Cody, junior linebacker Rolando McClain and senior Eryk Anders blocking in front of him with senior safety Justin Woodall trailing. Freshman linebacker Nico Johnson was knocked down while throwing a block.
Tennessee: The next time you watch the game-saving (field-goal) block, don't keep your eye on Cody but Javier Arenas. Both he and junior cornerback Kareem Jackson crashed in off the edges and collided headfirst, with Arenas taking the worst of it.
LSU: McElroy's end zone drought ended after 113 attempts when he connected with junior Darius Hanks on a 21-yard pass early in the third quarter. His last touchdown pass before that was the 7-yard toss to Hanks in the third quarter against Kentucky on Oct. 3.
Mississippi State: With two sacks Alabama exceeded last year's total of 26, and leads the Southeastern Conference with 28.
Chattanooga: Alabama had its longest possession of the season only it didn't result in any points. When the Tide got the ball at its own 25 with 5:28 remaining in the third quarter it executed 19 plays for 50 yards that lasted 10:14 and ended with a short field-goal attempt. UA's longest scoring drive this season remains 13 play, which it's done six times (of which the longest in time was 6:50 at Kentucky, 97 yards).
Auburn: When McElroy threw the ball right to Jake Ricks on the two-point conversion, he was the one to tackle the 6-foot-4, 292-pound defensive lineman. Also, two plays after Anders was called for pass interference he sacked Chris Todd and forced the fumble he recovered. The key to that play was Arenas also blitzing.
Florida: Excluding the end of the first half when Alabama ran out the final 1:18, the Tide scored on six of its first seven possessions.
Texas: The Heisman curse? Yeah, neither did anyone else.