Led by offense, Jones, Tide crushes Tennessee 41-10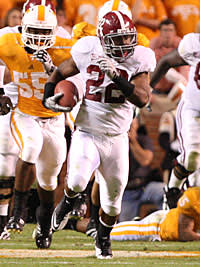 KNOXVILLE, Tenn. _ They may have been some of the most surreal moments in the history of the University of Alabama's football rivalry with Tennessee.
There were three minutes and 39 seconds remaining on the clock, but an official timeout had been called following a turnover. While the Crimson Tide coaches gathered the offensive backups and the "Pride of the Southland" Marching Band cranked out a version of "Jungle Boogie," running backs
Mark Ingram
and
Trent Richardson
went over to encourage
Demetrius Goode
and senior quarterback
Greg McElroy
hung out with the ball boys.
This was the "Third Saturday in October?"
"Hey McElroy," an orange-clad fan yelled out from the emptying stands. "You (expletive, expletive, expletive)."
He and everyone else on the Alabama sideline loved it, relishing every moment of the dominating 41-10 victory and the subsequent cigars that stained the air both outside the locker room and around Neyland Stadium.
"I'm not allowed to talk about that," McElroy said with a smile while his father was puffing on one a few feet away.
It may not have exactly been what No. 7 Crimson Tide needed, but it was just so satisfying, especially considering how the offense cranked out 536 total yards.
The receiver with a broken hand set the school receiving record with 221 yards on 12 receptions.
The running back who missed two games after having arthroscopic knee surgery had his best game in a month, ripping a 42-yard gain to go with two touchdowns. Meanwhile, his "understudy," a term that no longer seems applicable, had 119 rushing yards thanks in part to a 65-yard touchdown.
The beat-up quarterback whose hand got stepped on by a 320-nose tackle last week, and has received similar treatment of late from of his own fans, threw for 264 yards with no interceptions and just one sack.
"I'm very proud of the way our guys came out and competed," Coach Nick Saban said. "We knew it'd be a tough game. We really wanted to try to build on and establish an identity. We did that in the second half."
The Crimson Tide (7-1, 4-1 SEC) left with only two negatives, both stemming from the same play midway through the first quarter: Tauren Poole's 59-yard touchdown to give the Volunteers a 7-0 lead. It not only signaled a another slow start, as Alabama has been outscored 31-13 in the first quarter of SEC road games, but the longest run given up all season essentially ended the nation-leading string of 41 games without allowing a 100-yard rusher. He finished with 117 yards on 14 carries.
From then on, it was almost all Alabama - especially offensively. Two field goals and a touchdown drive resulted in a 13-10 lead at halftime, when Jones already eight catches including a 42-yard reception.
"He was on fire tonight," McElroy said. "He had a real chip on his shoulder this week and you could tell by the way he practiced."
Similar to that big gain, Alabama went to him again on the first offensive play of the second half when Jones, who had surgery the day after the South Carolina game, was in single coverage with no safety over the top. The result was a 38-yard completion to set up a touchdown and the rout was on.
"We took what they gave us," Jones said. "It was one-on-one, sometimes they rolled a safety over to me, but when they didn't we took advantage of it."
"They were kind of squatting on the routes so we had no choice but to try and throw it over their heads," Saban commented. "Greg made some great throws and Julio made some great catches."
The subsequent possession was just one play, Richardson's 65-yard touchdown, and a 36-yard strike to junior
Marquis Maze
set up another score. Backup quarterback
A.J. McCarron
connected with Jones for 47 yards to complete the record performance.
"We kind of looked heavily at last year's film," McElroy said. "They did a good job last year of taking away our run by stacking the box. We did a really good job of recognizing man vs. zone and that was a real struggle for us last year."
Meanwhile, Tennessee's only chance to answer and keep the game close came following Richardson's run, when after driving to the 11 sophomore linebacker Dont'a Hightower's pressure helped lead to sophomore safety Robert Lester's goal-line interception.
"Just execution," Lester said.
That's sort of what the Tennessee fans felt like they were watching, their team's execution, as the Vols fell to 2-5 (0-4). It was the fourth straight loss to the Tide and the smell of cigar smoke has a tendency to linger.
"It wasn't what we needed, it's what we need to do," junior center
William Vlachos
said with his team heading into its bye week.