Alabama Crimson Tide beats Missouri as Tua Tagovailoa leaves with injury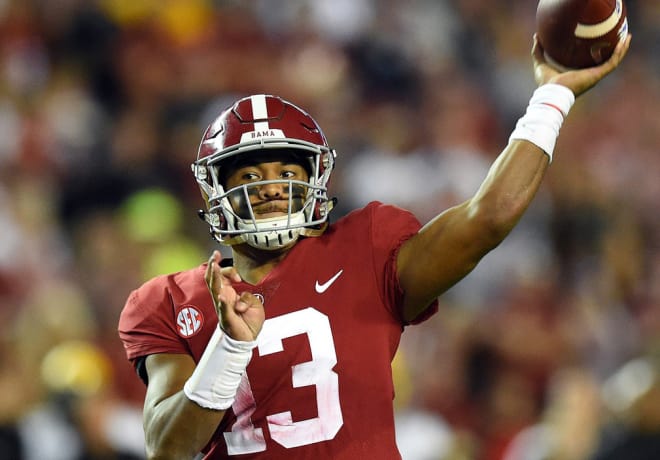 TUSCALOOSA, Ala. — Alabama won the game Saturday. Fortunately, it didn't lose its starting quarterback in the process. The Crimson Tide's 39-10 homecoming win over Missouri was overshadowed by a potential injury to quarterback Tua Tagovailoa as he was shaken up after sliding on a play in the third quarter. However, following the game, head coach Nick Saban announced the sophomore isn't significantly injured and could have returned to the game.
"He wanted to go back in the game. I didn't think it was worth putting him back in the game," Saban said. "He kind of tweaked his knee a little bit, the same one he sort of tweaked last week. So we don't think there's any issues or problems with it."
Facing a third-and-10 from the Alabama 38-yard line Tagovailoa tucked the ball and ran, sliding just short of a first down. The Heisman hopeful was slow to get up and was tended to by trainers on the field before ultimately jogging off under his own power. From there, he entered Alabama's injury tent.
The crowd inside Bryant-Denny Stadium waited an agonizing 19 minutes and nine seconds as trainers privately tended to Tagovailoa. Exiting the tent under his own power, the quarterback walked gingerly to the sideline where he remained for the duration of the game. Earlier in the week, Alabama head coach Nick Saban announced Tagovailoa had a sprained right knee but stated it was "not an issue" during practice. Tagovailoa wore a brace on his right knee during the week and was wearing it during the play.
Before leaving the game, Tagovailoa completed 12 of 22 passes for 265 yards and three touchdowns. After fumbling on Alabama's third possession — his first and only turnover through seven games this season — the sophomore sensation led the Crimson Tide on four straight scoring drives to take a 30-10 lead into the half.
Coming in for Tagovailoa in the second half, Jalen Hurts completed 7 of 8 passes for 115 yards. After leading three non-scoring drives, the junior dropped in a perfect 29-yard pass to Henry Ruggs III to set up a 2-yard touchdown run from Damien Harris which gave Alabama a commanding 39-10 lead with 13:32 remaining.
"I think he did a great job of managing the game when he was in the game," Saban said of Hurts. "We were trying to run the ball and keep it away from them some. I thought he did a really good job, and I think we have every confidence in Jalen… He has really improved as a pocket passer. I'm very pleased with the way he played today. I've been pleased with the way he's played all year."
For a second straight week, Alabama wasted no time getting on the scoreboard as Tagovailoa hit Jerry Jeudy for an 81-yard touchdown pass on the second play of scrimmage. Jeudy finished the game with 147 yards on three receptions and was one of two Alabama receivers to reach the century mark as DeVonta Smith had four receptions for 100 yards and a touchdown. Smith left the game after taking a knock in the second quarter. He did not return to action and was in street clothes in the second half.
Entering the game with a top-10 offense, Missouri mustered just 211 total yards on the night. Tigers quarterback Drew Lock completed just 13 of 26 passes for 142 yards with a touchdown and two interceptions. Lock was sacked four times, including once by Quinnen Williams in the end zone resulting in a safety. Meanwhile, Missouri failed to move the ball on the ground, gaining 70 yards on 35 carries.
Replacing injured starter Trevon Diggs, Saivion Smith tallied two interceptions, including one on Missouri's first offensive possession to set up a field goal. Smith now leads the team with three interceptions through seven games.
Alabama will travel to Tennessee next week as the Crimson Tide takes on Tennessee in the "Third Saturday in October." The game will kickoff at 2:30 p.m. CT and will be televised nationally on CBS.