Kouandjio fully healed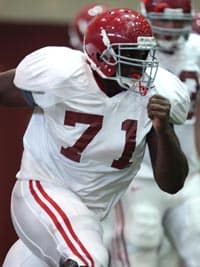 TUSCALOOSA | The University of Alabama's annual rivalry game against Tennessee is a memorable one for players for its tradition and competitiveness.
It's memorable for Cyrus Kouandjio for something else.
The Crimson Tide left tackle's freshman season was cut short against Tennessee last year due to a torn ACL in his left knee. But after a rehabilitation period that was relatively short for such an injury, Kouandjio returned to the field for spring practice in March and is feeling even better one week into fall camp.
"I really needed the extra time in the summer to get to 100 percent," Kouandjio said. "I was about 85 to 90 percent going to spring. I feel good now."
Kouandjio rehabbed the injury with his older brother and fellow offensive lineman Arie, who also missed the season last year with knee trouble. The younger Kouandjio's playing time was on the rise last season when the injury occurred. Although he did not make a start as a freshman, Kouandjio said game action from his freshman year has readied him for an improved sophomore campaign.
"It was pretty valuable because it gave me a taste of how SEC football is and how to play in front of 100,000 people and it gave me a little bit of experience, which is what I need to play at this level this year," he said.
Kouandjio exited spring drills working with the first-team offensive line. Playing the left tackle position, protecting the blind side of right-handed quarterback AJ McCarron, Kouandjio's pass protection skills will be crucial for the UA offense this fall.
"I like my pass blocking now because that's what I worked on all summer," Kouandjio said. "I think I got most of the technique down. ... I'm still working onb the little things. Technique, hand placement, foot placement. I'm glad to have people like Barrett Jones and Chance Warmack next to me helping me out."
With Jones and Warmack at center and left guard, respectively, Kouandjio has the benefit of having two of the top interior offensive linemen in the Southeastern Conference lining up to his immediate right. Right tackle D.J. Fluker, like Jones and Warmack a preseason candidate for the Outland Trophy, gives Kouandjio a strong reference point as well.
"We have jokes on the offensive line, joke around a lot, and they make me look like the baby," he said, "but it's cool with me. I'm just having fun."
Kouandjio said his mental approach in returning from knee surgery is play as though he was never injured to begin with.
"At this point it is a mental thing," he said. "I try to have the 'I don't care' attitude. Whatever happens, happens. I just go hard every play and hopefully everything works out."
Hill to Hargrave
UA signee Brandon Hill confirmed via twitter that he will not be eligible to enroll at Alabama this fall and will instead attend Hargrave Military Academy in Chatham, Va. Hill, a 350-pound offensive lineman from Collierville, Tenn., was the only member of Alabama's 2012 signing class who had yet to qualify academically.
Efforts to reach HMA coach Troy Davis were unsuccessful.
Tidebits
UA freshman wide receiver Chris Black was not at practice Wednesday morning. Coach Nick Saban said Tuesday that Black's injured shoulder was to be re-evaluated. ... The Crimson Tide will hold its first scrimmage of fall camp Saturday at Bryant-Denny Stadium (closed to public). ... Alabama resumes practice Thursday at 2:30 p.m.
Join TideSports.com for a 7-day free trial HERE!
Chase Goodbread Thursday night chats at 8:00 p.m. for TideSports.com subscribers.
Reach Chase Goodbread at chase@tidesports.com or at 205-722-0196.