Ken Stabler's two great loves: his daughters and Alabama's Gulf Coast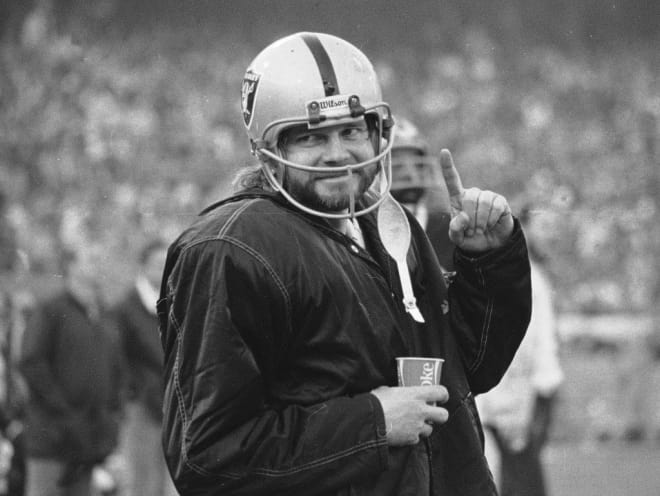 Ken Stabler today officially becomes a member of the NFL Hall of Fame. But he was already a Hall of Fame father to three daughters he thought hung the moon. And to the many thousands of people along the way who ran into the Snake in the wild and worked up a little courage to ask him for a picture, autograph or just a conversation, Stabler was long before now a Hall of Famer in the way he treated complete strangers.
If the true measure of a man is how he comports himself in the presence of those who can do nothing for him, Ken Stabler of Foley, Ala., left a legacy that stands in good company when he passed away last summer.
Stabler loved being from Foley, a small town in Baldwin County — close enough to the coast that you can nearly taste the salt — and he talked of it often.
His love for the the Gulf Coast showed in how often he returned. He became nearly synonymous with the area in the 1970s and early '80s: Stabler, a freewheeling quarterback on the field and a sort of real-life pirate on the water in his boat, long hair whipping in the wind. The original Alabama Gulf Coast swashbuckler.
Living in the Oakland/San Francisco area during that time, it might have been easy to remain in that hotbed of cultural significance, but come every offseason, Stabler always hightailed it back to his home. Near the water. Near where he was born.
For a man who gulped every sip of life he could swallow, Stabler had two sets of great loves that were easy to spot: His three daughters — Kendra, Alexa and Marissa — and the Gulf Coast, to which he could never get back fast enough during his playing days.
His girls
To know and speak with Stabler's daughters is to appreciate and recognize the job the man — to whom many assign a devil-may-care attitude — did raising them.
Kendra lives in Arizona, with her husband and two sons, Jack and Justin, whom Stabler called his Grandsnakes.
Alexa is in Mobile, a newly-wedded attorney and double graduate of the University of Alabama, where Stabler made his mark as an All-American quarterback and a place he always considered home and loved deeply.
Marissa, also a UA alumnae, is in Dallas.
All three successful, beautiful and kind. And boy were all three loved by their daddy.
"It's beyond belief how much he loved them," said Eli Gold, Stabler's radio partner for several years on Alabama football radio broadcasts. "He was so proud of what they did. Man did he dote on those girls. He was always telling you what they were doing, what they were up to."
That love included being there for his girls even when it wasn't always convenient for him to do so because of his celebrity.
There was the time he took Kendra to the Ice Capades to see Dorothy Hamill in Oakland, not too terribly long after he'd led the Oakland Raiders to their first Super Bowl championship in 1976. He didn't ask for VIP tickets, so the pair sat among the crowd.
"Every dad that took their daughter to that show lined up for autographs," Kendra Stabler-Moyes said. "Not once did he get mad or irritated. He sat there and talked and signed as long as it took."
When Alexa was accepted to Alabama, she was required to attend orientation and it was suggested that she bring a parent. Naturally, she asked her dad, and with no hesitation he took her. Only years later did she realize what she'd really asked him for.
"We got there and he was sitting with all the other parents in some conference room," Alexa said. "When he walked in you could just tell there was a shift in the room. For an entire day he was just constantly being bombarded with questions, 'Can I take a picture?' 'Will you sign this napkin?' He always did it with a smile on his face. He was more than happy to do it.
"I never realized that maybe he doesn't want to spend the day doing this. Because he knew what was going to happen. The second I asked him he knew exactly how the day was going to go. But he never said, 'Nah, this is how it's going to be for me. It's going to be taxing and certainly not how I want to spend my day.'
"He sat there through every, I'm sure, super-boring meeting and orientation. He never once complained. Now looking back on it, you know, that was really cool of him to do that."
Until she was a teenager, Marissa thought her dad was the actual Raiders logo.
He was in the middle of professional football career for much of Kendra's childhood, but she'll be the first to tell you he made up for it when he retired. He was Mr. Mom to Alexa and Marissa. All three will tell you he adored them.
He exercised plenty of patience too, not all that surprising given his laid-back approach to life.
During a road game to Tennessee during his duties as Alabama football's color commentator, Stabler received a frantic phone call from Alexa, who was driving in Pensacola, top down on her convertible when it began raining. He'd previously showed her how to raise and lower the top, but with the rain pouring down, she couldn't get the top down.
"Snake and I were in the rental car going from the airport to the hotel in Knoxville and he answered the phone and he was listening and listening and listening and then he said, 'You have to put it in park first,'" Gold said. "He said she got caught in the rain in Pensacola and she was hitting the button and nothing was happening. He told me, 'I had neglected to tell her you've got to put it in park first.' That shows he was a typical dad with typical kids."
That love grew when Kendra had her boys, Jack and Justin. He didn't see them as much as he'd like because they lived in Arizona, but when he did he made the most of their visits.
When they were in elementary school, he'd swing by and have lunch with them, take his Super Bowl ring off and let the kids play with it.
"There's all these 5- and 6-year old boys passing around these shiny rings having no idea what they were," Kendra said. "And then he'd go to recess and throw the ball around with them. The boys didn't realize it at the time that they had a really cool grandpa that would do stuff with them."
Alexa was married three months ago, and it breaks her heart her dad wasn't there to walk her down the aisle or tear up during the ceremony.
"I would have loved for him to be there," she said. "That was especially difficult, but I'm really, really grateful for the time I had with him. He was with me when I went to Alabama. We went to football games together. He came to my college graduation, my law school graduation.
"But it makes me sad to know that he'll never know my children."
A life-long love affair
If there was ever an athlete made for a particular city during a specific time period, it was Ken Stabler in Oakland during the 1970s. But even with that culture and personality fit, Stabler always ran back to Alabama.
Chances are if you frequented the Flora-Bama enough you'd run into Stabler, usually parked at the bar in the middle of the place. He wasn't one to duck in the corner and hide. Stabler was a man completely comfortable in his own skin. And he loved to tell stories.
He loved playing football for the Oakland Raiders, too, but he might have loved when the season ended more.
During the high point of his career with the Raiders, he and one of his favorite wide receivers, Fred Biletnikoff, secured a sweetheart endorsement deal with a local car dealership. They'd both get a new car to drive for a period of time, turn the vehicle back in and then the dealer could advertise the car as the one the Snake drove.
Only one offseason Stabler drove the car home. To Alabama.
"My dad decides to take the car and drive it to Alabama. From San Francisco," Kendra said. "Fred is taking his and smoking two packs of cigarettes a day. The dealership guy is, 'Where is Snake? I need this car back.' My dad shows back up with the car and drives it to the dealership and the guy is screaming at them, 'This has 50,000 miles on it! The other smells like an ashtray.'
"He kicked them out of the dealership. They looked at each and said, 'Can we take the car home?' The guy says, 'Get out of here.' So then they walked down two blocks and struck up a deal with another dealership."
Joe Gilchrist and John McInnis, co-owners of the Flora-Bama, credit Stabler for helping grow the popularity of not just their bar but for their community too.
The Gulf Coast Stabler grew up in wouldn't be recognizable to those who spend summer vacations in Gulf Shores or Orange Beach today. To be honest, there wasn't much there back then.
But the Flora-Bama, built in 1964, was there, and, as the name suggests, it sits directly on the border of Alabama and Florida. Stabler became a regular, and his love of the place along with his celebrity helped grow the bar into area's biggest and best and made it an establishment known nationally.
In a national interview, Stabler labeled it the "best watering hole in the country."
"A lot of people don't know this. They think Jimmy Buffett and people like Kenny Chesney are the ones who made the Flora-Bama famous," McInnis said. "But the truth is Kenny Stabler is the one who made the Flora-Bama famous.
"In the 1980s they started the Mullet Toss. It's a simple game of who can throw a fish the farthest from Florida into Alabama and vice versa. Within two or three years there were thousands of people participating and Kenny Stabler was one of those people. It's become the greatest party of the Gulf Coast."
Gilchrist enjoyed a decades-long friendship with the man he simply calls Kenny. He called on his friend several times to help promote events or to get things done in their shared community. He said Stabler never considered himself apart from the crowd. He was just one of the regulars.
"It was winter after football season when he was still with Oakland, and he came in and introduced me to a friend of his. He said Joe this is my friend Jimmy. It was Jimmy Buffett. That was typical of Kenny to introduce me to various characters that he would bring in.
"He tended to sit in the intersection of where most people were. He didn't make an effort to get away from people. He for years did so many things to help our community. He used his celebrity to get the Mullet Toss started. He was willing to come out and throw the fish and be a person to help achieve some newsworthiness."
Hall of Fame
Stabler goes into the NFL Hall of Fame today, an honor he predicted he'd never live long enough to see. He's one of a seven-member induction class, and he's the eighth former University of Alabama player to receive the honor, joining Don Hutson, Bart Starr, Joe Namath, Ozzie Newsome, John Hannah, Dwight Stephenson and Derrick Thomas.
Later this month, his number will become the first ever to be retired at Foley High School, where Stabler starred as a prep football and baseball standout. The ceremony will take place Aug. 19, a little more than 13 months after his passing from a battle with colon cancer.
In death Stabler is receiving the kind of honors and acclaim many think should have been bestowed upon him much much sooner. Those close to him, though, intimately know Stabler knew it would play out this way.
"We'd be in the broadcast booth before a game and he told us so many times, 'I'm never going to get into the Hall of Fame while I'm alive to enjoy it,'" Gold said. "I'd asked him why that is. He'd say, 'Well I just treated those sportswriters like crap.'
"He told us every time the list would come out and he wouldn't be on it, 'Guys, I'm telling you I ain't going to be on that list 'til I'm dead.' And he knew what he was talking about, unfortunately. No sooner does he pass away than he gets hustled into Canton. It's too bad he's not around to enjoy it."
When he passed, the number of letters the family received was staggering. They came from everyday people that Stabler loved interacting with, and from celebrities and athletes like Tom Hanks and Peyton Manning.
The outpouring showed how much he was loved.
"I didn't realize his impact on people and how far-reaching he was until he was gone," Alexa said. "People came out from all corners of the world, all demographics: men, women, young, old. They all reached out to us and it was overwhelming.
"I didn't realize who he really truly was until he was gone."
Reach Aaron Suttles at aaron@tidesports.com or at 205-722-0229.