Jones to test Tide protection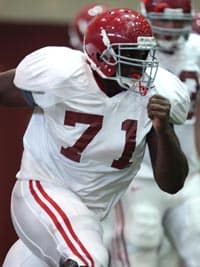 TUSCALOOSA | In Courtney Upshaw last year, University of Alabama fans got as good a look as they've seen at the production the Jack position in the Crimson Tide's 3-4 defense is capable of.
On Saturday, they'll get as good or better a look in the opposing uniform -- Georgia linebacker Jarvis Jones. The Bulldogs' designated pass rush linebacker has posted a dominant season with 12.5 sacks and 19.5 tackles for loss, numbers that hover at the top of the Southeastern Conference.
Charged with containing Jones and protecting UA's AJ McCarron from the sort of harm Jones can bring to a quarterback are offensive tackles Cyrus Kouandjio and D.J. Fluker. And, according to UA coach Nick Saban, perhaps some help from others when Alabama (11-1) and Georgia (11-1) play for the SEC title Saturday.
"He's a very, very good player. You certainly have to have a plan to help the players that have to block him so that hopefully he can't just get in one-on-one situations where it's a difficult circumstance for somebody," Saban said. "That's part of the planning that you need to do."
Kouandjio has enjoyed an especially strong sophomore season in the area of pass protection, and protects McCarron's blind side. Tight end Michael Williams will likely be among those called on to help block Jones.
"It's going to take a collective team effort to block him, anyway, not just backs and tight ends. There is going to be some guard help," Williams said. "There is a lot of attention focused on him and once we make our calls, we'll see where the help is coming from. I think we have a good game plan for it."
While Upshaw did it with power at Alabama, Jones does it more with speed for Georgia, beating blockers around the edge of the pocket with weekly consistency. The top two speed-style pas rushers Alabama faced this season -- Sam Montgomery of LSU and Damontre Moore of Texas A&M -- each recorded one sack against the Crimson Tide.
"I love this defense, actually.  I think it's one of the best defenses and a lot of the teams play it," said Jones, noting the similarity between Georgia's defense and Alabama's. "Alabama plays the same defense, and they're dominant in it as well. ... We've got to make plays and get off the field and give our offense a chance to score the ball."
Saban indicated Jones is the kind of player who can take command of a game with his disruption in the offensive backfield.
"There have been games this year where he has made a phenomenal amount of plays, whether it's sacks, causing fumbles," Saban said. "The guy is probably one of the best defensive players in the country in terms of his playmaking ability. He's a really good rusher. He's physical, he's instinctive. He's a very good player."
Reach Chase Goodbread at chase@tidesports.com or at 205-722-0196.