Jones talks Sarkisian hire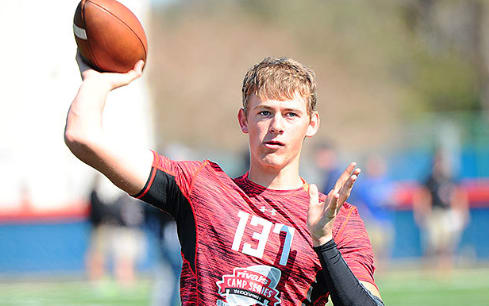 Mac Jones, four-star quarterback from The Bolles School in Jacksonville, Florida, has been committed to the University of Alabama for several months. Many things have changed since his commitment. Alabama has a star in freshman quarterback Jalen Hurts. The Tide also has another incoming freshman in Tua Tagovailoa who won the Elite 11.
Jones is not one to back away from any competition. He knows Alabama has some very talented young players at the quarterback position.
"It's a tough situation," Jones said. "You have a freshman who played really well his first year and you have an incoming player in Tua who has the potential to be a very good quarterback at Alabama. I'm not scared of competition. It's a big task ahead of me to think I can go in and play. I know I will have to work and fight my way into the battle."
Jones was originally set to graduate early and enroll at Alabama in January. He will likely enroll at a later date which will give other schools an opportunity to recruit him.
"I don't think I am graduating early anymore," said Jones. "Missouri wants me to come up for an official visit. That's really the only other school coming after me right now. It's a possibility I could visit other schools. I have a lot of time, but I know my Alabama official visit will be in January.
"Most schools I would consider taking visits to already have their quarterbacks in the class. There aren't really any other options out there I would consider."
Jones looks forward to his return to Tuscaloosa where he will have an opportunity to start his relationship with new offensive coordinator Steve Sarkisian.
"I think it was a good hire for Alabama," Jones said. "He has been with the team since earlier this year. I don't really know him that well. He knows football. He is cool. I know Coach Saban is going to hire a good coach.
"I've talked to Coach Kiffin a little bit. He wasn't really my primary recruiter. I mainly talk to Coach Saban and Coach Key. I told Coach Kiffin congrats on the job at FAU. He said he has to get me down to Boca for a visit."
Alabama has not asked Jones to grayshirt. He may redshirt with Hurts as a sophomore next fall, and Tua enrolling at Alabama in January.
"A redshirt is likely," Jones said. "If they were going to grayshirt me they would have told me. I think the redshirt would help me personally. I would be able to focus on the weight room and the playbook. I wouldn't have to worry about other people."
The signal caller certainly has the talent to play in Tuscaloosa or any program throughout the country. Jones will consider other visits in January. He remains locked in with his commitment to Alabama.