Jimbo Fisher:Jacob Coker most talented QB in Saban era at Alabama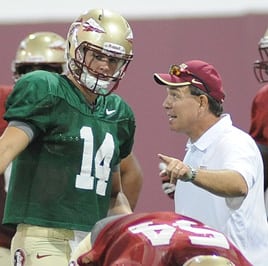 TALLAHASSEE, Fla. | If there is a debate about which quarterback gives Alabama the best chance to win this fall, Florida State head coach Jimbo Fisher isn't seeing it.
Fisher, a former offensive coordinator under Alabama head coach Nick Saban at LSU (2000-06), believes his former signal caller and new Alabama transfer Jacob Coker not only gives the Crimson Tide the best chance to win in 2014, he's the most gifted quarterback Saban's staff has had since arriving in Tuscaloosa seven years ago.
"Including what they've had, he's much more talented than anything they've had," Fisher said in a sit-down interview with the TideSports.com last week. "I don't mean to discredit the previous guys, they were all great. But this guy is extremely talented. Arm and mind."
Fisher's eye for talent and his ability to groom quarterbacks has been proven. He groomed three quarterbacks who have become first-round NFL draft choices in the past seven years: Jamarcus Russell (No. 1 overall in 2007) at LSU and Christian Ponder (No. 12 overall 2011) and EJ Manuel (No. 12 overall 2013) at FSU. Fisher has a sure-fire fourth once current FSU quarterback Jameis Winston turns pro, which could happen as soon as 2015.
While Coker was Florida State's backup last season, Winston led the Seminoles to a perfect record and the 2013 BCS Championship while also taking home the Heisman Trophy. Coker completed 18 of 36 passes for 250 yards and one interception in mop-up duty last season. Fisher, who chose Winston over Coker in what he tabbed as a close quarterback competition last August, believes his team would have experienced similar success with Coker at quarterback.
Of the three starting quarterbacks at Alabama since Saban's arrival - AJ McCarron, Greg McElroy and John Parker Wilson - McCarron was the top draft pick, going to Cincinnati the fifth round of last month's draft. McElroy went in the seventh round in 2011 and Wilson went undrafted.
Fisher sat down with the TideSports.com to discuss Coker's ability and the adjustments he will need to make in a new offensive scheme at Alabama.
D.C. Reeves: What kind of player is Alabama getting with Coker?
Jimbo Fisher: First of all, he's a very good person. He's a team guy, he's a tremendous human being, you want him to be your son. He works hard, does his due diligence, you can't work him enough. He's 'yes sir, no sir,' everything for the team. And then he's gifted with a tremendous arm, he's a very intelligent guy and learns well.
The other thing, you don't realize how athletic he is. He can run. He's a heavy runner, and what I mean by that is he is a physical guy, he likes contact, he's not a guy who backs off. Just extremely tough and competitive. He has all the tools.
DCR: How good can Coker be?
Fisher: He can beat you with his feet, he can beat you with his arm, he can beat you a lot of ways. He's the real McCoy, now. He's an NFL player, I think a high pick - he has a chance to be, without a doubt.
DCR: Some believe that a program with the stature of Alabama should not need to start anyone else's prior backup quarterback. How do you respond to that?
Fisher: Including what they've had, he's much more talented than anything they've had. I don't mean to discredit the previous guys, they were all great. But this guy is extremely talented. Arm and mind. He's a backup because he's behind the best quarterback in America. (Coker) may have been one of the top three or four quarterbacks in America physically.
We could have been right there in the same position last year with him, I really believe that. You just had to make a choice. If he had played, got his reps and got in that role, we would have done extremely well. I'm a Jacob Coker fan.
DCR: One of the biggest challenges awaiting Coker is learning Lane Kiffin's new offense. What kind of adjustments will he need to make?
Fisher: "(The new offense) will be similar. Some of their terminology and things are really similar to ours because Nick (Saban) carried them over. Now they said they've changed since Lane has come in, but a lot of certain terminologies (that Alabama still uses) came from when we were together at LSU, I know that.
Now the concepts and what they do, he'll learn. He's just got to fit in and be a teammate and apply his knowledge to the concepts. The concepts of a curl flat (route) - maybe we call it one thing, they call it another - or a vertical curl flat or a post, you're learning a new language where you can feel comfortable.
But the actual things they are asking him to do, he'll be able to process very quickly in my opinion.
DCR: How would you compare Coker's situation - transferring to a new school after three years at another major program - against a player who is in his first or second year of major college football?
Fisher: It's not even close. His knowledge of the game will be so much above those type guys it's ridiculous. It's not even close to the same. Jake understands protections, how to slide Mikes (middle linebackers), how to hot (throw hot routes), how to sight, he gets all of that where those (younger) players wouldn't have a clue on that stuff.
Here, we are probably as sophisticated as anybody out there offensively with what we ask our quarterbacks to do and the amount of information they have to process, so he'll be able to do it.
DCR: Is it odd to you to look around and see that of the three quarterbacks you had in the spring of 2013 - Coker, Clint Trickett (West Virginia) and Jameis Winston - two have transferred and all three could be starting at three major programs in 2014?
Fisher: Quarterback is so different because only one plays. I understand where (Coker and Trickett) are coming from transferring, and I'm their biggest fan. But it also lets us know our evaluation process and what we're doing is very efficient with what's happening, and hopefully we can continue to do that.
I'm happy for them, too. I'm sad that we don't have them, but at the same time, I'm happy they are having success, because that's what you want to see as a coach.
-Reach D.C. Reeves at 205-722-0196 or dc.reeves@tuscaloosanews.com.