Irv Smith Jr. following in his father's footsteps at tight end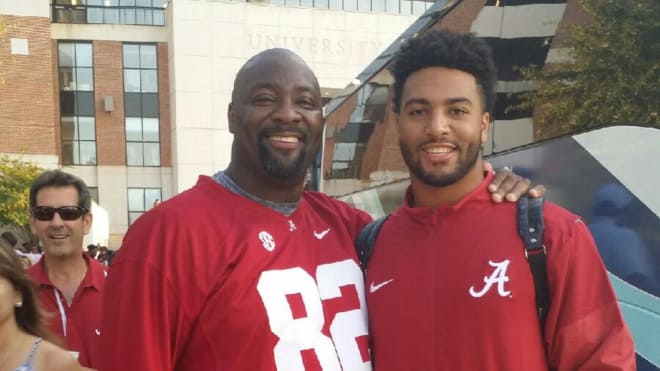 BONE: Alabama vs. LSU: Recruits to know
BONE: New offer for Nation's Top TE
TUSCALOOSA, Ala. — The pleading started at age 8 and didn't end until dad finally caved in five years later.
Alabama tight end Irv Smith Jr. started playing basketball at the age of 5 but wasn't allowed to play football until he was much older. His father, former NFL tight end Irv Smith Sr., was shy to put his son in a contact sport at an early age. Four years at Notre Dame and seven more in the NFL showed him how much of a toll the game of football can put on an athlete's body, and he figured high school was early enough to start in the sport.
"I knew Irv was very athletic, but growing up I didn't want him to get hurt at a young age," Smith Sr. said. "Playing football in high school and college, that's enough years to get banged up with. I kept holding him back and holding him back."
That ended up being a lot easier said than done. With football in his blood, the younger Smith was eager to follow in his father's footsteps. He was persistent too, stating his case at the beginning of every season. Eventually, the consistent begging paid off as his dad finally gave in and allowed him to play one year early in the eighth grade. From there, it was pretty clear the sport would be his future.
"When he started playing football his chest stuck out a little further, he walked a little taller," Smith Sr. said. "He embraced that he was getting bigger and stronger. I tell him all the time that I watched him transform from a basketball player to a football player."
Growing into it
The older Smith chuckled to himself a bit while his son went through a period of denial. Perhaps it was his transition from being a playmaker on the basketball court or maybe the fact that he was always one of the taller kids in his class, but Smith Jr. was convinced during his early high school days that he would end up as a star wide receiver.

His father knew better.
The genes don't lie. When Smith Sr. was drafted by the New Orleans Saints in the first round of the 1993 NFL Draft he weighed in at roughly 6-foot-4, 270 pounds. His brother, Ed Smith, who played professional baseball before a brief stint as a tight end the NFL, was no slight athlete either, weighing in at 6-foot-4, 253 pounds.
Try as he might to fight it, Smith Jr. was always bound to outgrow the receiver position.
"I kept telling him, 'Irv, look at me, you're not going to be 215 pounds.' I kept telling him that," Smith Sr. said. "... He finally embraced the fact that he wasn't going to be 215 pounds. He was going to be 260 pounds."
That realization is best described during the opening game of Smith Jr.'s junior season of high school.
"Coach, why don't you just line me up as a tackle," Smith Jr. joked as he approached Brother Martin (New Orleans) High School head coach Mark Bonis on the sideline. Going up against Patterson High School, Bonis saw an advantage in the running game and decided to run out of an unbalanced set on offense, lining up both his tackles on one side of the line while essentially turning his tight end into a glorified tackle on the opposite side.
Brother Martin went on to win the game 49-28 behind 443 yards on the ground. While Smith Jr.'s name didn't stand out in the box score the following morning, his former head coach remembers the game as one of the turning points in the young tight end's career.
"He was a great player because he was both great in the run game and great in the passing game," Bonis said. "He allowed us to have a lot of multiplicity with our offense. He was fast enough to be a threat in the receiving game but physical enough and willing to give you a big block if you needed it."
That progression to tight end admittedly took a while. After being listed as a wide receiver his freshman season, Smith Jr. took on the role of receiver/tight end during his sophomore year, his first as a starter. Although, performances like the one during the season opener against Patterson convinced him to finally drop the receiver tag altogether during his junior season.
As a former tight end himself, that was a welcomed sight for his father.
"When he embraced it, it was so fun to watch him not thinking about splitting out anymore but playing within the tight end and tackle realm," Smith Sr. said. "Once he made that decision, I saw it happen and he saw it happen. He didn't look back from there."
Making a name for himself
Bonis couldn't call soon enough. After watching his former tight end clear the way for an 11-yard touchdown run by Damien Harris against Florida State in this year's season opener, the head coach picked up the phone and delivered a much anticipated "I told you so" to Smith Jr.

"I called him up later that night and said, 'Hey you remember that Patterson game?' Well, it prepared you for that," Bonis said.
The play is one of many the sophomore tight end has made this season. On top of his blocking contributions, Smith Jr. leads Alabama tight ends with nine catches for 86 yards and a touchdown through eight games.
His biggest performance to date came in the Crimson Tide's last game, a 45-7 victory over Tennessee. Against the Volunteers, Smith Jr. tallied a career-high three catches for 60 yards, including a 14-yard touchdown reception from quarterback Jalen Hurts.

The impressive showing came after some initial adversity as Smith Jr. fumbled a ball near the end zone following a 34-yard reception in the second quarter.
"When he fumbled that ball I think I was more sad than he was," Smith Sr. said. "He picked himself up, caught some other passes and caught a touchdown. It just shows his resiliency. He didn't tuck his tail between his legs, he just made up for it. I was very proud of him."
This week, Smith Jr. will look to continue his success as No. 2 Alabama hosts No. 19 LSU at 7 p.m. CT on CBS. Smith Jr. was born in New Orleans but spent the first 14 years of his life in Phoenix, Ariz. However, that didn't stop him from rooting for his hometown Tigers growing up.
Saturday, the 6-foot-4, 246-pound tight end will be on the other side of the rivalry as he provides Alabama with a much-needed receiving threat against an LSU pass defense that ranks No. 13 in the nation, allowing just 173.5 yards per game through the air.
"We have a whole bunch of pieces that we can use during the game and adding another threat like Irv, he's a bigger, faster tight end," Alabama defensive back Minkah Fitzpatrick said. "When he gets the ball, he can make people miss or run through you. He's really athletic and quick. He adds another piece, an extra dimension."