I committed to Alabama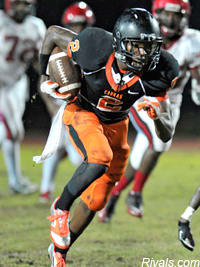 Eddie Jackson
, three-star (5.7) wide receiver from Boyd Anderson High School in Fort Lauderdale, Fla., announced on Wednesday his commitment to the University of Alabama. Jackson talked much more about his decision prior to the announcement via Twitter.
"I committed to Alabama," said Jackson. "I felt like I was the most comfortable there. I was comfortable with the coaches and the players. I feel like they will help make me the most successful in life. They will help me become a man.
"It's a real good feeling to be committed to Alabama. I really wasn't trying to get caught up in the name or the hype of them coming off another national championship. I wanted to know everything about them. I wanted to know about the school. I went there and learned about everything.
"The visit to Alabama a few weeks ago was my first-ever trip up there. I love the campus and facilities. It's beautiful and big. Everything is so organized.
"The thing I love the most is their academics. They have it set up to get your degree in three years. Half of the team in the bowl game had their degree already. It's a championship team with a lot of those guys having their degree. It's saying something."
Jackson informed the Alabama coaching staff of his decision following an official visit to LSU.
"It was great how everything played out," he said. "I felt like this is where I wanted to be. I felt welcomed. I felt like I was home. The people there made me feel the most comfortable.
"I made my final decision on Sunday. I decided on my way back from LSU that I was going to Alabama. My family was with me 100-percent. They felt like it was the best fit for me as well.
"I already told the coaching staff. I let them know on Sunday. They were happy. They were very happy. They seemed excited when I told them."
The 6-foot-1, 180-pound athlete knows the position he will play once he arrives in Tuscaloosa.
"They recruited me to play defense," Jackson said. "They recruited me as a cornerback. It's a great feeling. It's great to be able to play for coach Saban. It's a dream come true for me.
"I'll say I can play man coverage really well. My aggressiveness is also a strength. I am very good when I man up on someone. I am aggressive. I feel like I can improve my footwork. I can work on my ball coverage skills. It's good, but it can get better."
Jackson recorded 37 receptions for 778 yards and 12 touchdowns during his senior season. He added six interceptions on defense. He returned two kickoffs and two punts for touchdowns.