HURT: Alabama wins battle of wills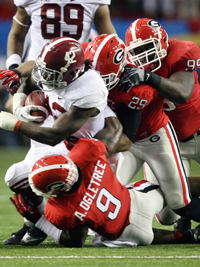 "Hard pounding, gentlemen. Let's see who will pound longest." - The Duke of Wellington at the Battle of Waterloo
Sometimes it comes down to just that. The politics don't matter. The BCS ramifications don't matter. The pregame chatter doesn't matter. Not even the trophy at stake matters.
Alabama and Georgia reached that point on Saturday evening, playing a classic football game that finally seemed to transcend the fact that a berth in the national championship game was on the line. By the fourth quarter, the game became a test of wills, each team throwing everything it could at the other side and then staring - bemused - when the opponent refused to topple.
Even at the very end, it seemed like there would be no end. Alabama appeared to have finally landed the blow with an interception. Replay reversed that verdict. This game was not destined to end that quietly.
Instead, it ended not because the losing team failed to make a play, but because it did make one, as did the winners. Georgia was throwing for the end zone in those final 15 seconds, hoping to either find Malcolm Mitchell in the end zone or put Alabama through one more excruciating play. Instead, Alabama linebacker C.J. Mosley reached, touched the football and altered its path. It fell directly in the arms of Georgia's Chris Conley, who did what he has been trained to do in all his years as a receiver. He caught the ball - and sealed his team's doom. There was no way to stop the clock, no chance for Georgia to get the 5 yards that would seal its greatest win in three decades.
Instead, it is Alabama that now has history firmly in its sights, a chance to win a third BCS title in four years.
Survival was what mattered.
Mark Richt was proud, too, so much so that he abandoned his normal postgame school to verbally joust with an Atlanta talk-radio host who seemed to question the toughness of the Bulldogs in general and quarterback Aaron Murray in particular.
There have been times when Georgia's toughness has been questioned, even by its own defensive players. And there was a stretch in the third quarter when Alabama asserted an imposing physical dominance, ripping man-sized holes for its man-sized running backs. By the time Eddie Lacy scored the touchdown that put Alabama ahead 25-21 at the opening of the fourth quarter, the outcome seemed certain. The Dogs, their defense winded and Murray harassed, seemed pounded.
Instead, they returned fire. Todd Gurley did his best impression of Lacey and T.J. Yeldon. Advantage, Georgia. The Crimson Tide came back, with more running. Finally, Georgia had to sell out to stop the run - and Alabama found its incomparable freshman, Amari Cooper, behind the defense. Advantage, Alabama. And it still didn't stop. There were still defensive stands, and questions about clock management and the game became less about winning and more about the sheer stubborn refusal to lose.
That, however, is Alabama's game.
Even though it has a loss on its record, this Alabama team didn't quit and is once again back in championship territory. In fact, if there is one hallmark of this Alabama team, it is resiliency. It doesn't have the talent, frankly, of its BCS-winning predecessors in 2009 or 2011. Can you imagine those defenses yielding yardage in the chunks that this group has allowed in the past month, at LSU or against A&M or in critical situations on Saturday? But it has kept playing, through injury and adversity.
It may not be the recent Alabama team that plays the best, but on Saturday, it proved to be something different. It proved to be the team that pounded hardest.
Reach Cecil Hurt at tidesports.com or 205-722-0225.