HURT: Alabama not a trendy pick
As America fills out its NCAA Tournament brackets annually, there is always a scramble to find the "trendy" pick, one that has a possibility of advancing while simultaneously confirming the picker's deep knowledge of college basketball.
The University of Alabama is not a trendy pick.
That doesn't mean that no one thinks the Crimson Tide can't win its second-round game (remember, the Dayton games that trim the field down to 64 are the "first round" in the current configuration) against the Creighton Bluejays. Clearly, someone does. The opening line on the game in Las Vegas had Creighton listed as a 2-point favorite and enough support for the Crimson Tide poured in to reverse that - Alabama is now a 1.5-point favorite in most places.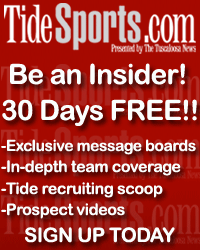 Click
Here
to view this Link.There have also been some national analysts who have picked Alabama to advance until Sunday. (I have yet to see anyone take UA to beat North Carolina, although a couple of prognosticators have Creighton advancing out of Greensboro.) Most, however, are picking Creighton. There is nothing wrong with that. Creighton is a solid team. But it is worth examining a couple of factors that make Alabama "untrendy."
First, when dealing with the Trendy Index, there is a tendency to favor teams from "midmajor" conferences. There have been very successful teams out of the midmajors recently - Butler, George Mason, Virginia Commonwealth - and I think there is some cachet for a bracket-picker in showing that he or she knows more than just the "big name" teams. (For experimental purposes, I did pick an NCAA bracket based on which team would win if the teams were playing football instead of basketball and came up with a Final Four consisting of Alabama, Baylor, Michigan State and Wisconsin, although you could make an argument for West Virginia in that spot as well.)
Second, I don't think Alabama was a very impressive team on television this season, particularly once the SEC season began. Unless you were an aficionado of defense - and some fans are, but not most - the Crimson Tide was not an aesthetic pleasure to watch. It rarely scored more than 70 points in a game, and seemed to spend most of its time trying to stop the other team by whatever means necessary. That was good enough to make into the NCAA field, but it lacked a "wow" factor.
Partly related to that grind-it-out style was the fact that Alabama essentially didn't have a big win that any outside observer could use as a peg on which to hang his hat. Alabama basically beat the teams it could beat up, or wear down, but couldn't quite pull off an upset against the SEC's best teams - Kentucky, Florida or Vanderbilt. Alabama's best win after last December 1, RPI-wise, was against No. 61 Ole Miss in double overtime. (In each of the last two seasons, Alabama's NCAA fate was largely decided on a Caribbean island - St. Thomas last season, Puerto Rico this season - over the Thanksgiving weekend.)
Compare UA's lack of big-name wins to Florida State (a recognizable football name that is also a "trendy" pick) and its multiple wins over Duke and North Carolina, and you will see why people are rushing to put FSU in the Final Four and Alabama in the ranks of the forgotten.
Does it matter that America is ignoring the Alabama bandwagon rather than climbing aboard?
"That was the first thing Coach (Anthony Grant) hit us with," sophomore guard Trevor Releford said Tuesday. "He said not to pay attention to what people were saying on television, that the game is going to be decided on the court."
That court - the basketball court - could be Alabama's best hope, because the court of public opinion, at least in most places, has not passed a favorable judgment on the Crimson Tide's chances.
Reach Cecil Hurt at cecil@tidesports.com or at 205-722-0225.