How a brotherly bond has always fueled Alabama freshman Herbert Jones
TUSCALOOSA, Ala. — It was game point.
That's the explanation Walter Jones Jr. gives for the black eye his brother Herbert received during a one-on-one basketball game growing up.
"When we younger, he'd always cheat with the score," Jones Jr. explained. "We would be playing to 24 and I could have 22 and I'd ask him what the score is and he'd always say he had 22. I know he'd have like 16 or something, but I'd always let him say he'd have 22. But for some particular reason that day I was like 'I can't let him have it.' We just got into a fight."
Don't Miss: Avery Johnson's Presser Before Alabama A&M
Looking back, Herbert, a freshman on Alabama's basketball team, doesn't deny fudging the score from time to time to keep up with his older brother.
"Ehhh, it depends," Herbert said. "If he was beating me pretty bad I might get a couple here and there. If it was 12-4, I might say it's 12-8. But yeah, it got pretty bad sometimes."
Both brothers agree those one-on-one matchups got pretty brutal. After all, they typically came after intensive two-hour workouts with their father, Walter Jones Sr., who insisted that his sons face off at the end of each session.
"Normally it would be one game," Herbert said. "But with me and him being competitive as we are, one game could turn into five or six. The games could get pretty physical."
Jones Sr. never found out the cause of Herbert's black eye, but it halted the one-on-ones for a couple of months.
"Herbert tried to hide it from me," Jones Sr. said. "He didn't want me to be upset. They both knew they were competing, and that was just part of that competitive nature out of both of them."
That competition is alive and well today and will culminate Friday night when Herbert's Alabama hosts Jones Jr.'s Alabama A&M at 6 p.m CT on SEC Network +. It won't be quite the same intensity as the previous matchups as Jones Jr. will have to sit out the game after transferring from Texas Rio Grande Valley this season.
Although, that hasn't stopped the older brother from talking a bit of trash. It started after Alabama's disappointing 74-65 exhibition win against Alabama-Huntsville earlier this month. Even though Herbert put up a solid 14 points, his brother had to put him back in his place.
"Right after the game I sent him a text that said 'I got A&M by 2,'" Jones Jr. said. "He just said don't sleep on it. He's very confident, so I mean there's going to be a whole lot of trash talk."
Jones says he hasn't really responded to his brother's text. For now, he'll let him have his fun, especially since Alabama (2-0) enters the game as a heavy favorite over Alabama A&M (0-2).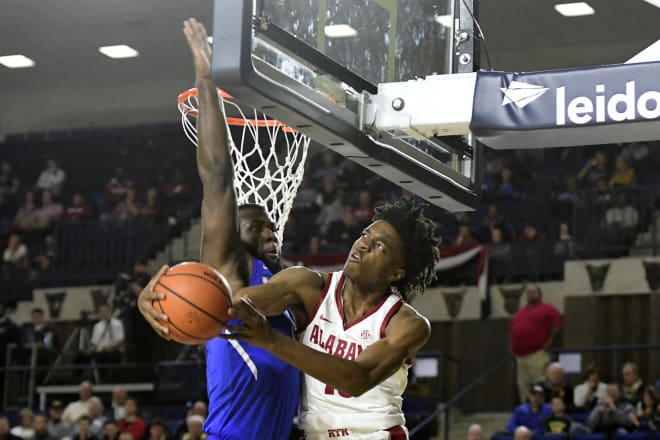 In all seriousness, the two are pretty close. Jones Jr., a redshirt junior, said he was glad he was able to come back to Alabama and be closer to his younger brother. He said his favorite memory in high school was playing alongside his brother during his senior season at Sunshine High School in 2015. That year, Jones Jr. was named Alabama's Class 1A Player of the Year after averaging 16.2 points and 12.6 rebounds per game and leading the Tigers to the state finals where they lost to Sacred Heart.

"He was pretty much my go-to guy, the No. 1 person I looked up to for real," Herbert said. "Like in basketball that's who I tried to model my game after."
Not to be outdone, Herbert followed in his brother's footsteps. After Sunshine closed its doors following that season, Herbert transferred to 4A Hale County High School in nearby Moundville, Ala. During his senior season this year the 6-foot-7 guard led the Wildcats to their first state championship. He also earned 4A player of the Year, averaging 16.6 points, 8.2 rebounds and four assists per game. Herbert also added 54 blocks and 84 steals.
Herbert signed with Alabama as part of the Crimson Tide's prized 2017 recruiting class. He was rated as a four-star prospect and the No. 90 player overall in his class. That recognition is one thing, but earning the respect from his brother means even more.
"His jump shot has improved tremendously," Jones Jr. said. "It still has a ways to go, but that was the only thing he was lacking was his jump shot. He could always handle the ball, he always had a good basketball IQ and could pass the ball. So for him to be able to knock down the 3 like he's shown and to be able to knock down open shots period is a big step in his game."
Through two games Herbert is averaging 8 points and 1.5 blocks. He is also shooting a solid 41.7 percent from the floor including 2 of 3 from beyond the arc. Those numbers are impressive, but big brother isn't ready to hand over the crown just yet.
Maybe Friday night he'll change his tune, but not likely.
"Back then it was me by a long shot," Jones Jr. said without hesitation. "Now, it's probably me by like a hair. I mean I can still get the best of him, but he's tough."