Three-star Vernon Jackson breaks down commitment to Bama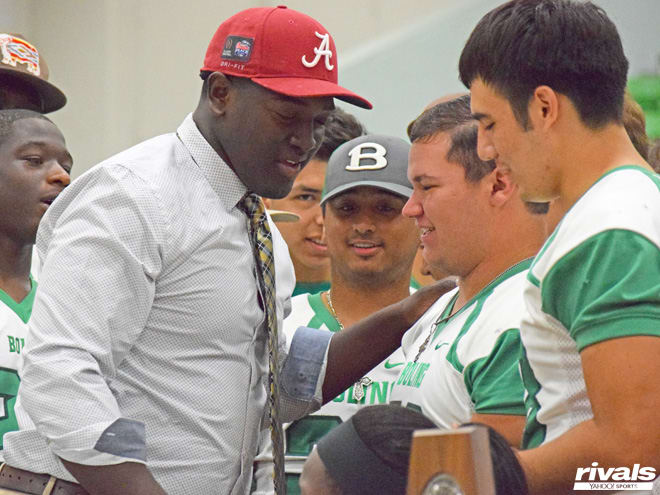 MORE ON JACKSON: BamaInsider.com
BOLING, Texas – The book on Vernon Jackson throughout most of his recruitment is that he's kept a pretty low profile. On Friday afternoon, he decided to change things up when he announced his commitment to Alabama in front of a raucous student body and local television during a pep rally at Boling High School.
Jackson had originally planned on announcing his commitment at the end of August, but after Hurricane Harvey smashed its way into southeastern Texas, he delayed his decision. Even after having some time to reconsider his options, as Texas A&M and TCU were considered to be the other likely finalists for his commitment, he said that he kept coming back to the Crimson Tide.
"There was a little bit of me thinking about things again," he said. "When I got the time to reschedule it, I went to both TCU's and Texas A&M's games just to see how I felt about it; I felt pretty solid when I got back home."
While Jackson has a reputation as low-key personality, his play on the field has drawn quite a bit of attention. Last season during Boling's state championship run, he rushed for more than 2,000 yards as the team's quarterback with 33 touchdowns.
He didn't have to throw much with those numbers, but it's not likely that he'll be asked to do much of that in Tuscaloosa. He's expected to play linebacker - although he's not sure if that means inside or out - but he said that he's up for the challenge.
"It's hard to say where I'm going to end up," he said. "Wherever I get the best chance to get on the field, that's where I want to play … [the chance to play running back] is still up in the air; coach (Burton) Burns is still on me pretty hard, so I'm not quite sure yet."
Jackson's head coach at Boling, Kevin Urbanek, said that he thinks his star player has what it takes to make that transition and has high expectations for his career on the Tide defense.
"I think that's going to fit him perfectly," he said. "If we could afford to play him on one side of the ball - at a bigger school, he probably would have always been an outside linebacker type if he went to a 5A, 6A school. So I think that's going to fit him just right."
Many expected Alabama to be in the driver's seat down the stretch in Jackson's recruitment, as he's visited for camps and was on-hand for Alabama's spring game. He said that the connection that he formed with the coaches and the atmosphere he experienced during those visits was like nowhere else that he'd been.
"The fans and the coaches are great," he said. "I trust the coaches - it's a stable coaching staff and I like them a lot. … I got to spend about four days in Tuscaloosa and it's kind of like small town, but it's really not. People are really close-knit and everyone knows each other - it's a nice place."
Jackson credited his relationship with linebackers coach Tosh Lupoi and graduate assistant Denzell Deval as the two Tide assistants most instrumental in his recruitment by Alabama. Urbanek said that those two made a smart move identifying his player as a prospect that is going to better their program with his character as well.
"Alabama didn't just get a heck of a football player, they got a kid that's got his head on right," he said. "He's not going to make bad decisions outside of football. He's going to attend his classes, make his grades, and they just got a good individual."
Jackson did leave the door open just a sliver, mentioning that he still might give a thought to taking a visit to Florida, Florida State, Oklahoma or Ole Miss, but was also quick to dispel the notion that meant he wasn't making a firm commitment.
"I feel pretty good," he said. "I think I'm pretty much ready to shut it down; ready to move on."