Heisman curse Hardly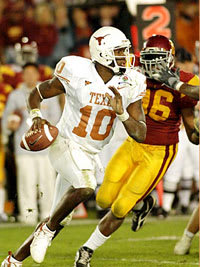 TUSCALOOSA _ It was only a matter of minutes after
Mark Ingram
won the University of Alabama's first Heisman Trophy that he heard the question.
"What do you think of the Heisman jinx?"
Despite barely having enough time to mentally process that he had won, never mind the award's implications and ramifications, the sophomore running back still didn't hesitate.
"It doesn't phase me at all," Ingram responded. "Some people when they have success they let it get to their head, but when I get to practice on Friday that will be my main focus, the national championship game, doing whatever I can to get us ready for this. My team is looking forward to it, I'm looking forward to it and I will do whatever I can to not let them down."
That may be easier said than done if recent history is any indication.
Since 2000, when Florida State quarterback Chris Weinke edged Josh Huepel in voting and then didn't have a touchdown pass against Oklahoma in the title game, only one Heisman winner has also won the national championship the same year, Southern California quarterback Matt Leinart in 2004.
Overall, those nine Heisman winners went 2-7 in bowl games, with Trojans quarterback Carson Palmer the other exception after leading a lopsided victory against Iowa in the Orange Bowl to cap the 2002 season.
Nebraska quarterback Eric Crouch was on the wrong side of a Miami rout in 2001, Oklahoma quarterback Jason White was stymied by Nick Saban's defense at LSU in 2003, and just three years ago Ohio State quarterback Troy Smith had a miserable performance in the 41-14 loss to Florida when he completed just 4 of 14 passes for 35 yards and two turnovers.
"As the quarterback I am the one guy out there who can pretty much control everything," Smith said after the defeat. "Florida did some great things defensively, but nothing we couldn't have handled. I take all the blame for that."
There's an obvious spotlight/revenge/playing with a bullseye factor, but that doesn't necessarily translate into a jinx even though Heisman winners are 22-27 in bowl games, including 11-14 by running backs. Since 1992, when the Bowl Coalition was first created (the same year the Southeastern Conference went to 12 teams and Alabama ran the table), Heisman winners are 8-9 in bowl games with running backs 3-2.
A better explanation is that the quarterbacks have faced some outstanding defenses in the recent championship games and bowls.
Last season was a good example when Sam Bradford of Oklahoma beat out Texas' Colt McCoy (even though McCoy won their head-to-head matchup) and Florida's Tim Tebow, but then lost to the Gators in the BCS Championship Game. He completed 26 of 41 passes for 256 yards with two touchdowns and two interceptions -- numbers similar to Tebow, who also had 109 rushing yards.
In the process, Tebow became the fifth player since 1950 to win a Heisman and two national titles, joining Reggie Bush, Leinart, Gino Torretta and Johnny Rodgers (McCoy led Texas to a 24-21 victory over Ohio State in the Fiesta Bowl).
The year before, Tebow lost his post-Heisman game to Michigan, but the bowl didn't have an impact on the national title won by LSU. Playing with a broken bone in his non-throwing hand he was 17-of-33 for 154 yards and three touchdowns and ran for 57 yards and a score. Yet the game appeared to mean a lot more to Michigan as it was Lloyd Carr's coaching sendoff.
Here's what the other recent Heisman winners faced in the title game:
2008 Bradford: Florida was ranked ninth in total defense, fourth in scoring defense.
2006 Smith: Florida was sixth in total defense, six in scoring defense.
2003 White: LSU was first in both total and scoring defense.
2001 Crouch: Miami was sixth in total defense, first in scoring defense.
2000 Weinke: Oklahoma was eighth in total defense, seventh in scoring defense.
Of course, the last running back to win the Heisman was Bush in 2005.
In the title game against Texas at the Rose Bowl the Southern California standout had 82 rushing yards, including a 26-yard touchdown, and 95 receiving yards on six catches despite making a bad decision on a lateral that gave the Longhorns the momentum in the first half.
What decided the high-flying game, when the teams combined for 1,100 yards, was Longhorns quarterback Vince Young having arguably the greatest championship performance ever with 267 passing yards, 200 rushing yards and three touchdowns including the game-winner with 19 seconds remaining.
"It's been a great run," Bush told reporters afterward. "We've done some special things. I don't think we should be ashamed about anything."
Incidentally, Texas was ranked 10th in total defense and eighth in scoring defense, but 33rd in rushing defense.
If anything, Young's amazing performance fueled discussion that perhaps the Heisman voting should be pushed back, again. Only recently have the finalists gathered in New York for the announcement, and the award used to be handed out before the regular season was completed. For example, Auburn's Pat Sullivan won in 1971 before losing to Alabama 31-7 in the only Iron Bowl both teams came in undefeated. He subsequently shared the SEC's player of the year honor with Crimson Tide running back Johnny Musso.
Sullivan is one of only nine Heisman winners from the SEC, of which four have been running backs. Previous to Ingram, the last running back to win was 1985 with Auburn's Bo Jackson (the closest vote ever until this year).
The last time an SEC running back won and then played for the national title was Herschel Walker in 1982, when Georgia lost to Penn State in the Sugar Bowl, 27-23. LSU's Billy Cannon lost to Ole Miss in the Sugar Bowl in a No. 2 vs. 3 matchup (1959 season), and Frank Sinkwich led Georgia to the Rose Bowl where it beat UCLA, 9-0, but the Bulldogs were already tabbed No. 2 to Ohio State in the final 1942 polls.
If that wasn't rarified air enough for Ingram to deal with, he's already had the Sports Illustrated jinx this season, the Crimson Tide is going after its 13th national championship and no one has coached two different teams to national titles like Saban is attempting. Consequently, the coach didn't waste any time last week in dismissing not only the Heisman jinx, but any lingering distractions from junior linebacker Rolando McClain winning the Butkus Award and six players named All-Americans.
"I don't care what award they won, or how many made All-American or how many we had," Saban said. "None of that's going to matter when the game starts."
Year, winner, school, position; bowl result
2009 Mark Ingram Alabama RB
2008 Sam Bradford Oklahoma QB; lost to Florida in national championship*, 24-14
2007 Tim Tebow Florida QB; lost to Michigan in Capital One Bowl, 41-35
2006 Troy Smith Ohio State QB; lost to Florida in national championship*, 41-14
2005 Reggie Bush Southern California RB; lost to Texas in Rose Bowl*, 41-38
2004 Matt Leinart Southern California QB; beat Oklahoma in Orange Bowl*, 55-19
2003 Jason White Oklahoma QB; lost to LSU in Sugar Bowl*, 21-14
2002 Carson Palmer Southern California QB; beat Iowa in Orange Bowl, 38-17
2001 Eric Crouch Nebraska QB; lost to Miami in Rose Bowl*, 37-14
2000 Chris Weinke Florida State QB; lost to Oklahoma in Orange Bowl*, 13-2
1999 Ron Dayne Wisconsin RB; beat Stanford in Rose Bowl, 17-9
1998 Ricky Williams Texas RB; beat Mississippi State in Cotton Bowl, 38-11
1997 Charles Woodson Michigan DB/WR; beat Washington State in Rose Bowl*, 21-16
1996 Danny Wuerffel Florida QB; beat Florida State in Sugar Bowl*, 52-20
1995 Eddie George Ohio State RB; lost to Tennessee in Citrus Bowl, 20-14
1994 Rashaan Salaam Colorado RB; beat Notre Dame in Fiesta Bowl, 41-24
1993 Charlie Ward Florida State QB; beat Nebraska in Orange Bowl*, 18-16
1992 Gino Torretta Miami QB; lost to Alabama in Sugar Bowl*, 34-13
1991 Desmond Howard Michigan WR; lost to Washington in Rose Bowl, 34-14
1990 Ty Detmer Brigham Young QB; lost to Texas A&M in Holiday Bowl, 65-14
1989 Andre Ware Houston QB; no bowl
1988 Barry Sanders Oklahoma State RB; beat Wyoming in Holiday Bowl, 62-14
1987 Tim Brown Notre Dame WR; lost to Texas A&M in Cotton Bowl, 35-10
1986 Vinny Testaverde Miami QB; lost to Penn State in Fiesta Bowl*, 14-10
1985 Bo Jackson Auburn RB; lost to Texas A&M in Cotton Bowl, 36-16
1984 Doug Flutie Boston College QB; beat Houston in Cotton Bowl, 45-28
1983 Mike Rozier Nebraska RB; lost to Miami in Orange Bowl*, 31-30
1982 Herschel Walker Georgia RB; lost to Penn State in Sugar Bowl*, 27-23
1981 Marcus Allen Southern California RB; lost to Penn State in Fiesta Bowl, 26-10
1980 George Rogers South Carolina RB; lost to Pittsburgh in Gator Bowl, 37-9
1979 Charles White Southern California RB; beat Ohio State in Rose Bowl, 17-16
1978 Billy Sims Oklahoma RB; beat Nebraska in Orange Bowl, 31-24
1977 Earl Campbell Texas RB; lost to Notre Dame in Cotton Bowl*, 38-10
1976 Tony Dorsett Pittsburgh RB; beat Georgia in Sugar Bowl*, 27-3
1975 Archie Griffin Ohio State RB; lost to UCLA in Rose Bowl, 23-10
1974 Archie Griffin Ohio State RB; lost to Southern California in Rose Bowl, 18-17
1973 John Cappelletti Penn State RB; beat LSU in Orange Bowl, 16-9
1972 Johnny Rodgers Nebraska WR; beat Notre Dame in Orange Bowl, 40-6
1971 Pat Sullivan Auburn QB; lost to Oklahoma in Sugar Bowl, 40-22
1970 Jim Plunkett Stanford QB; beat Ohio State in Rose Bowl, 27-17
1969 Steve Owens Oklahoma HB; none
1968 O.J. Simpson Southern California HB; lost to Ohio State in Rose Bowl*, 27-16
1967 Gary Beban UCLA QB; none
1966 Steve Spurrier Florida QB; beat Georgia Tech in Orange Bowl, 27-12
1965 Mike Garrett Southern California HB; none
1964 John Huarte Notre Dame QB; none
1963 Roger Staubach Navy QB; lost to Texas in Cotton Bowl, 28-6
1962 Terry Baker Oregon State QB; beat Villanova in Liberty Bowl, 6-0
1961 Ernie Davis Syracuse HB; beat Miami in Liberty Bowl, 15-14
1960 Joe Bellino Navy HB; lost to Missouri in Orange Bowl, 21-14
1959 Billy Cannon LSU HB; lost to Ole Miss in Sugar Bowl, 21-0
1958 Pete Dawkins Army HB; none
1957 John David Crow Texas A&M HB; lost to Tennessee in Gator Bowl, 3-0
1956 Paul Hornung Notre Dame QB; none
1955 Howard Cassady Ohio State HB; none
1954 Alan Ameche Wisconsin FB; none
1953 Johnny Lattner Notre Dame HB; none
1952 Billy Vessels Oklahoma HB; none
1951 Dick Kazmaier Princeton HB; none
1950 Vic Janowicz Ohio State HB; none
1949 Leon Hart Notre Dame E; none
1948 Doak Walker Southern Methodist HB; beat Oregon in the Cotton Bowl, 21-13
1947 Johnny Lujack Notre Dame QB; none
1946 Glenn Davis Army HB; none
1945 Doc Blanchard Army FB; none
1944 Les Horvath Ohio State QB/HB; none
1943 Angelo Bertelli Notre Dame QB; none
1942 Frank Sinkwich Georgia HB; beat UCLA in Rose Bowl, 9-0
1941 Bruce Smith Minnesota HB; none
1940 Tom Harmon Michigan HB; none
1939 Nile Kinnick Iowa HB; none
1938 Davey O'Brien Texas Christian QB; beat Carnegie Mellon in Sugar Bowl, 15-7
1937 Clint Frank Yale HB; none
1936 Larry Kelley Yale E; none
1935 Jay Berwanger Chicago HB; none
*winning bowl team named national champion