Halftime tirade sparks Tide to 73-68 win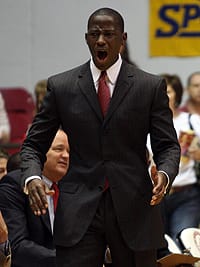 TUSCALOOSA _ During a halftime celebration that went longer than originally scheduled, the University of Alabama "A" Club honored Director of Athletics Mal Moore and presented a very big check while announcing the creation of an endowed scholarship in his name.
At that point it appeared Moore's second standing ovation Saturday, the first being at the BBQ Cook-off at Bryant-Denny Stadium, was going to be the highlight at Coleman Coliseum where the men's basketball team was struggling against Arkansas. For 20 minutes the uninspired Crimson Tide looked like it was desperately close to starting preparations for the 2010-11 season rather than playing before 13,151 home fans.
Only while Moore was being lauded, Coach Anthony Grant was launching into his team in the locker room and apparently put the extra time to good use. Admitting later that he was full of "energy and passion," the team responded with 44 points in the second half to pull off a 73-68 victory and end a frustrating four-game losing streak.
"I challenged them at the half," Grant said. "I thought we were really hurting ourselves when you look at we had 17 attempts at the basket compared to their 31, and 11 turnovers. There were a lot of things I was displeased with and I thought it had to do with our focus, concentration and effort."
It also had a lot to do with standout guard Courtney Fortson, who made three 3-pointers en route to an 18-point, six-assist game for the Razorbacks (13-12, 6-4 SEC). But to give an idea of how bad things were looking not only was Alabama held scoreless during a span of 5:08 but attempted just one field goal during the final 10:02 of the half, a missed layup.
During that same time span it tallied eight turnovers while Arkansas capitalized to take a convincing 38-29 lead.
"I thought it was two completely different halves in terms of the energy," said Grant, who declined to tell what his speech entailed. Yet after pulling close with a 9-2 run the Tide only needed a couple more minutes to pull even at 45 on junior
Charvez Davis
' 3-pointer with 14:14 remaining.
From there it was sophomore forward
JaMychal Green
's turn to pace things, and aided by his 12 of 13 free-throw performance finished with a game-high 22 points (his first 20-point game since Mercer on Dec. 23) and nine rebounds.
"This time we fought" Green said in reference to the 71-59 loss at Arkansas on Jan. 16. "We haven't done the things we need to get done, but today we blocked out, we defended and we got stops."
Although Brock made a clutch 3-pointer to give Alabama a 67-65 lead with 2:09 remaining and pair of free throws down the stretch as the Tide made 11 of its last 13 from the line (22-for-29 overall), Grant was even more impressed with his defensive play on Fortson -- who made just one of seven shots in the second half.
"I just tried to pressure and contain him and keep him in front of me," said Brock, who had the extra motivation of being from Arkansas. "He's real fast and quick so I was trying to do my best to keep him in front of me."
Also indicative of Alabama picking up the pace in the second half were the 23-12 edge in rebounds (38-24 overall), 11 points off turnovers and 15 on second chances. Combined with 17 more free-throw attempts than Arkansas it added up to the team's most points in a half this calendar year (47 against Tennessee State on Dec. 30).
"We were not going to lose this one," Hillman said.