Gameday: LSU-Alabama goes from a game to The Game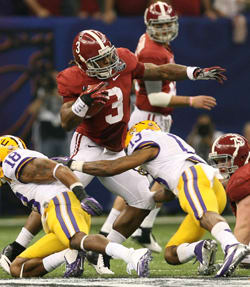 30 DAY FREE TRIAL! - THIS WEEK ONLY
Saban, who had left LSU three seasons earlier for the Miami Dolphins before leaving the National Football League team to come to the University of Alabama, was the center of attention. He wanted none of that. He said his hands were bruised from smacking them together after so many Alabama mistakes, way too many to beat a better team. He vowed that through coaching and recruiting, Alabama would get better.
Saban's vision came alive, quickly elevating what this rivalry has come to mean.
Alabama has won three national championships since that day. LSU has one, and never vacated from the nation's elite. To Saban's delight, the impact of the series on the field and in the polls made the "Saban Bowl" an afterthought, at least once his first return trip to Baton Rouge, La., was out of the way in 2008.
Now it is expected for the SEC Western Division championship to hang in the balance when these two teams clash. There should be national championship implications, too. They've been in play for Alabama-LSU every year since Saban arrived in Tuscaloosa.
What was a big game in 2007 has become the game for both teams, and this year continues the trend. Alabama hauls in another No. 1 ranking to square off against No. 10 LSU in what should be another memorable chapter tonight.
"This is not the kind of game that anybody could not get excited about playing in," Saban said. "Obviously this rivalry in the last few years has always meant a lot, whether it's national rankings, SEC West. A very meaningful game. Two very good programs, really good teams."
Since Saban's arrival
The high stakes make the relatively uncertain future of 2007 seem like a century ago, providing plenty of leg room for a series that has had at least one "Game of the Century".
Most telling of all, they have combined for five BCS Championship Game appearances and four national titles the past six seasons.
Or look at it this way: Things are humming along nicely for a series when this year's meeting - No. 1 vs. No. 10 meeting with Alabama favored by a dozen points or so - is considered a step down from the three top-five matchups in 2011 and 2012.

"It's always like that no matter what the record is," he said. "It is a great rivalry in a way and it's always two great teams going against each other. Every play does really count."
Take away Alabama's 21-0 win in the 2012 national championship game and the six regular-season meetings since Saban's arrival at Alabama have been decided by 7, 6, 9, 3, 3 and 4 points.
"I think this team, kind of historically at LSU, looks forward to playing Alabama," Miles said. "I think it's the same this week. I think our guys are really looking forward to playing the best against their best opponents. There is just a little more energy in the step of your team. Their attention to detail is greater. I enjoy it very much. I've always enjoyed the competition with some of the better teams in this country, and certainly Alabama is that."
A physical series
It's fitting that the teams who battle for the top of the SEC bring the same kind of fight: Ground game, physicality, multiple tight ends, big running backs and trenches littered with NFL talent.
Former Alabama running back Trent Richardson, a prototypical bruiser with a build made for Alabama-LSU, remembers it fondly from his first big play in the series. As a freshman in 2009, Richardson got the call on a 2-point conversion play in the fourth quarter against LSU. He took the shotgun toss to the left, bowled over an LSU defender and skirted by two more arm tackles on the way across the goal line.
The play produced his favorite photo from his college career - Richardson celebrating as three LSU defenders lay face down in the red end zone turf behind him.
"It's a big picture I've got, too," Richardson said with a laugh. "I think we knew each other well, We all knew each other inside and outside, we studied so hard in that series, it's bangin', bangin', bangin' in that game."
How tough is it? In seven meetings since 2007, Alabama has carried it 230 times against LSU for 848 yards, averaging 3.7 yards per carry. The longest run Alabama has mustered against the Tigers since 2007 was Richardson's BCS title-sealing touchdown in 2012, just 34 yards.
LSU has run 271 times against Alabama in that same stretch. It has weathered its way to 934 rushing yards for a 3.4-yard average. The team that has won the rushing battle is 6-1 since 2007.
"Like Coach Miles said, it's big-boy football," Richardson said. "We're not going to be able to shake each other's will. We wanted to run the ball, but we're trying to kill each other's will with smashmouth football.
"You're going to get LSU's best. First of all, you're Alabama, you're going to get the (opponent's) best at all times. With this game, LSU is going to play at their best. Missed assignments, one step, just little things, receivers have to do their job on the edge, quarterback in the passing game and the running back. You look up and they're going to try to come get you. You're just trying to do whatever it takes."
Talented defenses have made it tough sledding in this series for both teams, a fact that has kept so many of the winning margins in the single digits. The NFL draft proves it: since 2009, LSU has had 13 players from its front seven selected, including eight in the first three rounds, to 10 front-seven draftees from Alabama.
"The style of the game is an NFL-style game, and rushing yards are really tough to come by," CBS college football analyst Gary Danielson said. "The biggest discrepancy in physical talent on the field is very similar to an NFL physical discrepancy."
While LSU's offense this season has found more balance with the emergence of Zach Mettenberger at quarterback, Alabama is expecting no philosophical change from LSU and its 235-pound sophomore wrecking-ball running back, Jeremy Hill.
"Just physical, downhill-type team," Alabama linebacker Trey DePriest said. "They're going to line it up and run what they're going to run. Can you stop it, is basically what comes to mind."
The Game
The series has matched big expectations with big moments. The "Game of the Century," a 9-6 LSU win in overtime in 2011, captivated the college football world. The rematch in the BCS Championship made history two months later. And, of course, you can't forget Miles reaching down and eating Tiger Stadium grass in 2010.
Has there been a single series that has meant more to the college football landscape since 2007?
The numbers suggest not.
One or both teams have been in the top six in the BCS standings when the teams squared off. Alabama hasn't been outside the top three entering an LSU game since 2010. This year's game will snap a four-game streak of both teams being among the top 10 in the BCS.
"I'm trying to think of another series that's had more impact (on the BCS), in recent years anyway," ESPN BCS analyst Brad Edwards said. "It's been one of those games that typically had large implications for both teams, and even though that's not the case this year it continues to be a game where the physical matchup is so good that even though it may be No. 1 vs. No. 13 (in the BCS standings), it still presents hope to fans of other teams that want to see Alabama lose or need it like a Florida State or Oregon. LSU always presents enough of a matchup problem for Alabama where it at least presents some hope if you're one of the teams."
In some ways, Alabama-LSU has become the beacon for the SEC's run of success, accounting for four of those seven straight national titles.
"I think except for people who are a bit envious or maybe had their fill of the SEC because this seven-year run, from the rest of the conferences, I only think it's only natural to want their conference to be (the best) and they are proud of their teams in their conference and there's jealousy, envy, the whole thing, they've about had it with SEC football being superior to everybody else, we all know that," Danielson said. "They would have to admit that these are two of the five premier teams in college football and they enjoy watching the game. They may be having a rooting interest against one of the teams because they want their team to move up, but I think it's almost must-see TV for the college football fan."
The intrigue and the stakes have changed since that day in 2007.
It is no longer about a coach and his past, it's about all of the important things at stake in the present.
"It should be about the players on the field. It should be about the two teams that play. We've had a lot of great games and I don't think since the first year we've ever had a game where it's not two really good teams playing. I'm talking about the first year, we probably weren't all that great and they had a really, really good team," Saban said. "Since then, the players that play the game, the competitors that are involved on the field, that's where the focus should be. I'm actually pleased and happy that's where the focus is. I think that's what the players deserve, I think it's what the institution deserve, I think it's what the fans deserve. I certainly think it's in the best interest of our league and college football that that's where the emphasis is."

***************
205.722.0196.