Four-star guard Davin Cosby enrolling early with Alabama basketball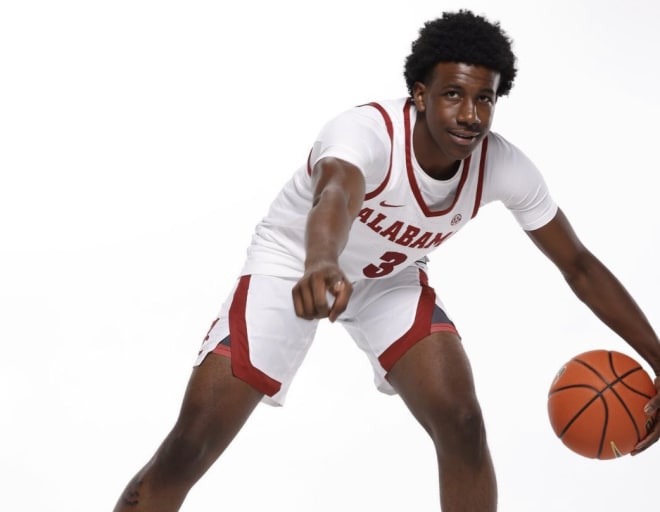 Alabama basketball will welcome in one of its signings this month as Davin Cosby announced Saturday that he will enrollee early. The 6-foot-5 shooting guard will not play for the Crimson Tide in this season but will work out with the team before making his collegiate debut for the 2023-24 campaign.
"It's gonna help us quite a bit as far as practice goes, I think," Oats said of Cosby. "He's a good player, a good shooter. He'll start to learn the system. He'll get with Henry, our strength coach, start to get his body right. It's just different. You can do a lot more in college, a lot more resources. And then I think he'll help our scout team, too. It'll make our guys better. It'll be good to have him around the program and just for him to learn.
"It'll be great for him for next year. I think he'll be more prepared. He's older now. He's about the same age as Clowney and some of our freshmen anyways, so I think it's good to get him in. It's good for him, and it'll be good for us, both."
Cosby, a Raleigh, N.C. native, comes to Alabama as the No. 84 overall player and No. 18 shooting guard in this year's class. Last season, he averaged 23.6 points last season at Word of God Christian Academy. Cosby chose the Crimson Tide over offers from LSU, North Carolina State, Tennessee and Virginia, among others
"Davin is an elite shooter and really came on the scenes this past summer," Oats said in November. "He has learned under a great coach in Byron Williams at Word of God Christian Academy and is a proven scorer, leading the state of Virginia in scoring. Davin is a playmaker and can create with the ball in his hands and make plays. With shooting at a premium in our program we are trying to go recruit the best shooters in the country and we feel that he is one of the best shooting guards in the country."
Cosby is one of four players Alabama signed in this year's class, joining four-star forwards Mouhamed Dioubate and Sam Walters as well as three-star guard R.J. Johnson.