Foster talks in-depth decision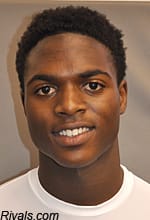 Robert Foster
, Rivals100 wide receiver from Central Valley High School in Monaca, Pa., announced his decision Friday afternoon. Foster shocked those in attendance when he announced his intentions to sign with the University of Alabama in February.
There was a lot of confidence from both schools this week in the pursuit of Foster. Many in western Pennsylvania and most national recruiting analysts pegged Pitt as the eventual winner for Foster's commitment. Less than a handful felt the defending national champions had a much better chance than 50/50. Foster said after his press conference he had yet to inform either coaching staff.
Foster will graduate with his high school class in the spring. He is considered among the best prospects in the country and will compete in the Under Armour All-America game in January. His commitment to Alabama gives the Tide a total of 20 commitments from 13 different states.
Pitt still has time to recruit Foster until signing day in February. He has already taken his official visits to Alabama and Pitt. He doesn't plan to take any additional visits. Alabama head coach Nick Saban will make an in-home visit with Foster and his family in January. His lead recruiter was Lance Thompson and also recruited by receivers coach Mike Groh.
The past two recruiting classes has seen Alabama reel in elite receivers led by sensational freshman Amari Cooper. Alabama has three commitments in this class with Foster, ArDarius Stewart, Rivals100 athlete from Fultondale High School in Ala., and Raheem Falkins, four-star wide receiver from Carver High School in New Orleans, La. Alabama will not take another receiver in this class.
"The reason that I chose Alabama was because I wanted to show everybody that we have athletes, and we can travel somewhere else in different areas and show that western Pennsylvania has athletes," Foster explained. "That was my goal that I'm planning to reach in my future, and chasing my dreams for my parents and my high school.
"One thing that I liked about Alabama was that they made me feel comfortable. I'm not saying that Pitt didn't make me feel comfortable, but I feel that they're the better fit for me.
"I made up my mind this morning. I got on my knees and asked God to give me the answer. This morning he told me the best fit for me is Alabama.
"It was very close," Foster explained of the two schools, Alabama and Pitt. "It was stressful, and it was getting to me. Like I said, I got on my knees and asked God to give me an answer, give me the correct answer, give me the answer that would fit for me, and he told me Alabama. So that's the school that I'll be going to.""
Foster was talking with his mom and dad for additional advice.
"They all wanted me to do what's best for me, he said, "and I loved all the support that they gave me and all the love."
The Tide's head coach has also built a bond outside of the recruiting coaches who were responsible for the Pennsylvania native.
"We have a really close relationship," Foster said of Saban, "and we know each other, real tight. I have a lot of respect for Coach Bobby Engram; if I can, I'll still have a relationship with Coach Bobby Engram from Pitt because he means a lot to me, too, and I'll be looking up to him.
"One thing Coach Saban told me was that I'll have to work, and that's one thing I like to do; I like to work. He told me a lot, and he told me I'm going to have to work to be an athlete down there. That's one thing I want to do; I want to achieve my goal for my family and myself.
"He just says that I have to work; that means a lot to me because that's one thing I'm willing to do. That's one thing I do every day. I work hard and try to give my all."
Foster was actually asked at the press conference about the rumors of Saban to the NFL.
"That doesn't bother me at all," he said. "I mean, I'm going to college for a reason. I'm going to get an education and hopefully chase my dreams. So if he decides to leave, I'm still going to have to do my job and get my education and do my classwork and do what I have to do."
Foster was asked if he would change his mind if Saban left - "No, it wouldn't."
Athletes wait a lifetime to have this opportunity to announce a college decision in front of family and friends. The recruiting process had also become stressful in the last few weeks. Foster expressed some emotion at the announcement.
"The emotional part was that I'm going to miss my high school family a lot," he said. "It's hard; I'm not going to see my family as much as I possibly can and see my friends. But I have one job to do in college, and that's to get an education and hopefully chase my dreams."
Alabama is known for chasing national championship titles, and Foster pictures himself in that environment.
"The whole thing is that I'm there for a reason," he said. "Hopefully, I can be a part of that and hopefully I can set my goal to make plays for us to be a national champion. I want to be one."
Foster is also focused in the classroom.
and working to meet all qualifications.
"No sir," Foster said about a prep school, "as long as I keep my grades right and keep my academics right and work hard; that's the main thing. I have to work hard and keep my mind focused."
Foster likes to thank a parent for instilling hard work to reach your goals.
"My work ethic came from my mother," he said "My mom has been through a lot of things in her life, and she struggled, but one thing that she did was she pushed herself. She's my biggest role model because she pushed herself and raised four kids by herself for four years."
Foster's head coach knows all too well about the recruiting process.
"It went to the 11th hour," Lyons said. "It was just a matter of him getting comfortable, and I think when he had his family right next to one another, his mom and dad both said he had their blessing no matter what he did. That put a smile on his face and allowed him to come to this conclusion."
Distance always becomes part of the equation when athletes are looking at the pros and cons of a decision.
"That played a factor because," Lyons said, "as you see with the amount of people sitting in this cafeteria. He's got a great support staff. And that's not just because those people like football; they like Robert Foster as a person. That's how he is. He's a likeable kid, he's got a great smile, and people gravitate to people like that. So he needed to have that sense wherever he was going.
"Even though it's tough, and it's long distance to Alabama, he has that sense. They've expressed that, and he recognized that when he was down there on the visits he had."

Foster learned quickly from the coaches at Alabama that hard work comes with any athlete when they arrive in Tuscaloosa.

"He was really turned off by any recruiter who came in and said, 'We're going to get you 'X' amount of catches and in a year and a half you're going to be on a draft board.' He doesn't want to hear that," Lyons said. "He wants to go in as an average person who fits right in with the next class. He doesn't like talking about himself, he doesn't like bragging about himself; what the Alabama staff did was say, 'Listen, you can play for us, but we're going to challenge you every day.' He welcomed that challenge, and he loves to be challenged in that way.
"They said it's going to be tough and day-in and day-out he's going to go against top defensive backs. I think he welcomed that as a challenge, knowing that they weren't going to give him anything. He'll have to work for everything."
Lyons recognized, along with others in the stands on Friday nights, of the incredible athlete who knows how the game is played.
"First of all, in this day and age everything's about a combine and seven-on-seven and how good guys look in a pair of shorts," Lyons said. "He's fast in equipment, and you can see that when you see him every day. Guys are fast in the 40 coming out of the blocks in a pair of shorts; he's fast in equipment, and he's probably faster running the ball with equipment on than actually trying to come out of a block and running a 40.
"I don't know if we've ever had an official 40 time on him; I don't know if anybody actually clocked him, because once they saw him with equipment on, they saw enough because has that game speed. To me, that's what separates him: he's got game speed.
Lyons is definitely convinced, "He's got what it takes, I believe."
Lyons thinks Foster welcomes the opportunity to play against the best athletes in the country; not just football Saturdays, but also in practice on a daily basis.
"I think it was the challenge of it all," Lyons said. "This may turn some guys away, but knowing that he's going to line up against guys every day in practice that will probably be projected one or two (in the NFL draft), that's going to make him better. I think that in itself is probably what attracted him down there.
"It's the rapport and the respect they have for him, and it's not just for Robert Foster as a football player, but they really touched home with him about being a person. They talk about him being a better man, a better student, and a better football player. I think those three things hit home. That's what they keep preaching."
How much will it take for Foster to become academically qualified by next August?
"We're still waiting," Lyons said. "He's taking the tests, and we're still waiting for the results. He's worked tremendously hard with that process, probably harder than most students. He knew he was behind the eight-ball. Since after his sophomore year, we had him on a rigorous plan."
Foster's commitment to Alabama pushes the Tide to the No. 1 recruiting class in the country ahead of USC.