Five things to watch for heading into Alabama's game against Southern Miss
Alabama survived its first road test last week with a narrow win in The Swamp. This week figures to be a bit more comfortable for the Crimson Tide (3-0) as it hosts Southern Miss (1-2) on Saturday at 6:30 p.m. CT inside Bryant-Denny Stadium. No. 1 Alabama is currently a 45-point favorite over the Golden Eagles, according to VegasInsider.com.
Here are five things to watch heading into the matchup.
Will Alabama find more explosion on offense?
Alabama's offense has been solid but unspectacular over its first three games. While the Tide is still averaging a respectable 41 points, it ranks No. 60 in the nation and 10th in the SEC in total offense with 419.3 yards per contest.
Perhaps even more alarming has been Alabama's lack of big plays. After tying for the nation's lead with 87 plays of 20 or more yards last season, the Tide is tied for No. 104 nationally in the category with 10 such plays this year.
Eight of those plays have come in the air as John Metchie III and Jameson Williams have each recorded a pair of receptions of 20 or more yards while JoJo Earle, Cameron Latu, Jahleel Billingsley and Jase McClellan have also caught a pass resulting in such a gain. Brian Robinson Jr. had Alabama's season-long run with a 23-yard gain against Florida. The only other time the Tide has gained 20 yards on the ground occurred during Trey Sanders' 20-yard touchdown against Miami.
"We're working to make explosive plays," Alabama head coach Nick Saban said Wednesday. "I think we have to just execute a little bit better, give players more opportunities to make those plays. We've had some really, really good skill guys here, and the players make the plays. So those guys made a lot of explosive plays. They'd catch a slant pass and run for 70 yards. We catch a slant pass and get tackled.
"It's the players, the execution of what we have to do on each and every play so that we have a chance to make explosive plays. And giving our guys opportunities through good planning is something that we have to continue to try to do a good job of as well."
This week, Alabama will face a Southern Miss defense that is tied for 18th nationally allowing 28 plays of 10 or more yards through its first three games.
Should Young run or should he throw?
Bryce Young made his fair share of big plays during his first road start against Florida. The sophomore quarterback was responsible for each of Alabama's first three touchdowns and completed 22 of 35 passes for 240 yards without an interception. However, his most talked-about pass on the afternoon is one plenty of Tide fans wish he had tucked away.
Facing a second-and-goal from the 1-yard line with roughly 10 minutes remaining, Young rolled to his right, pump-faking twice before delivering a pass that was tipped before landing in the hands of Latu, who was unable to keep his feet in bounds in the corner of the end zone. The play drew some criticism as it appeared the dual-threat quarterback could have beaten defenders to the end zone.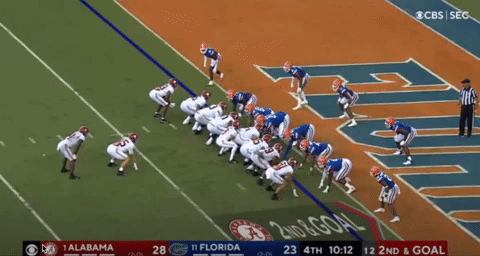 Following the incompletion, Alabama was stuffed on third down and ultimately had to settle for a field goal instead of extending its lead to two scores.
During his senior year at Mater Dei High School in California, Young ran for 357 yards and 10 touchdowns over 13 games. However, through his first three starts at Alabama, he's lost four yards on just eight attempts.
While some Alabama fans have been calling for Young to use his legs more, Nick Saban seems perfectly content with his quarterback's decision-making outside of the pocket.
"I think he's done a good job of keeping his eyes downfield," Saban said during Wednesday's SEC teleconference. "He's made some plays outside the pocket. He's run a few times. He's made first downs.
"There was one occasion last week where he decided to take a shot and throw it and might have been able to run for a first down, but I think overall he's done a really good job of handling himself in the pocket and making good choices when he has to get out of the pocket."
During a Tuesday appearance on "The Bryce Young Podcast" Young spoke about his decision-making outside of the pocket, stating he was often expected to be a run-first quarterback growing up due to misconceptions about African Americans at the position. Young also said out-of-pocket awareness is "something I've stressed in my game."
"I'm still trying to improve that, trying to improve at being more aware, deciphering times to run, times to throw, stuff like that," Young said. "I definitely haven't perfected it and I have a long way to go. It's definitely been an emphasis in my game since I was younger."
Will defense figure things out?
Alabama isn't likely to be tested by a Southern Miss offense that ranks No. 123 out of 130 FBS teams, averaging 284.3 yards per game. However, the Tide will need to figure out its mistakes from last week's game against Florida before Ole Miss comes to town with its top-ranked offense next week.
Despite being without its leading rusher in quarterback Anthony Richardson, the Gators were able to pile up 439 yards of total offense against Alabama, including 258 yards on the ground. Florida's 6.0 yards per carry average was the highest the Tide has allowed since an Ohio State offense led by Ezekiel Elliott averaged 6.7 yards per attempt during the 2015 Sugar Bowl.
"This was a real eye-opener that we need to get our stuff together for real, for real," outside linebacker Will Anderson said Monday. "And we need to live up to the Alabama standard and we need to play to the Alabama standard. All 11 of us need to be on the same page."
During his interview, Anderson faulted Alabama's players for Saturday's result, stating that the game plan from defensive coordinator Pete Golding was sound but that the unit lacked the discipline to execute it.
"The whole room, I feel like we need to start watching more film together," Anderson said. "Football needs to start being the most important thing right now. Just getting all on the same page in that room. We have a lot of young guys and they're just trying to come along. We have to get them ready and prepared so they can help out."
More big things from Billingsley?
Slowly but surely, Billingsley is working his way into Alabama's offense. After finding himself in Saban's doghouse during fall camp, the junior tight end has seen increased snap counts the past two weeks.
Billingsley participated in a season-high 31 offensive snaps against Florida last weekend, almost twice as many as the 16 he saw during the season opener against Miami. More importantly for Alabama, the star tight end showed flashes of last year's breakout performance as he recorded his first reception of the season on a 26-yard touchdown pass from Young.
When asked Wednesday what Billingsley has done to see his role increase this season, Saban said the junior is "doing what he's supposed to do."
"He practices better, he's more engaged, he's more focused on what he's supposed to and he's having more positive performance on the field, which is what any player is supposed to do," Saban said. "I think that — did any of you play sports? I mean, the coach is supposed to play the best players, right? And then it's up to the players to do what they're supposed to do so they get to play because they become one of the best players. So that's what he's doing now."
With Billingsley taking on a lighter role earlier in the season, Alabama relied on Cameron Latu at tight end as the converted edge rusher has recorded five receptions for 62 yards and three touchdowns this season. Moving forward, Billingsley and Latu could form a dangerous partnership at the position, allowing Alabama to exploit mismatches against opposing linebackers.
"One thing I expect from him is to make a lot more plays," Latu said of Billingsley. "He's a very useful weapon for our offense, and I know he's just — I love playing beside him, and he's going to help our team a lot."
Gore advisory 
Southern Miss will feature a familiar name on offense as the Golden Eagles' rushing attack is led by Frank Gore Jr., the son of five-time Pro Bowler Frank Gore Sr. who holds the NFL record for most games played by a running back (241) and was the first player to rush for 1,200 yards in 12 straight seasons.
The younger Gore could very well follow in his father's footsteps en route to the NFL. After leading Southern Miss with 708 rushing yards through 10 games during his first year last season, the 5-foot-8, 195-pounder is leading the Golden Eagles on the ground again this year with 274 yards and a touchdown through three games. He has also recorded seven receptions for 73 yards.
Earlier this week, DeMarcco Hellams said he was a fan of Gore Sr. growing up. The starting safety and his Alabama teammates are approaching the former NFL great's son with similar respect.
"Southern Miss, they have good backs," Hellams said. "They have a good team. They run a very good offense. He's a good back. We're looking forward to the game on Saturday."