EXCLUSIVE: UA looking into Calloway allegations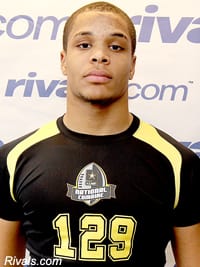 RUSSELLVILLE | University of Alabama athletic department officials spent the day in Franklin County on Friday investigating a report of impermissible enticements in the recruitment of Russellville High School football player Brent Calloway.
Calloway signed with the Alabama football program in February as part of the 2011 signing class, ending his see-saw recruitment. Calloway originally verbally committed to Alabama in the summer of 2009 before switching to in-state rival Auburn in the weeks leading up to National Signing Day. His last-minute change of heart saw him sign with the Crimson Tide.
UA compliance department officials interviewed Calloway, Russellville resident Darren Woodruff, bank officials at First Metro Bank and Calloway's adopted father, Harland Lindsey Winston, known as "Peaches."
At issue are allegations made Thursday morning by Auburn Rivals reporter Jeffrey Lee on Mobile radio station WSNP. Among Lee's allegations were that an Alabama supporter - subsequently identified as Woodruff -- paid Winston $2,500 for Calloway to commit to Alabama, as well as supplying Calloway a new car. Lee also alleged Woodruff pulled Calloway out of school in the days leading up to signing day, taking him on a trip to Florida.
Woodruff declined comment to TideSports on Friday other than to say, "I'm confident the truth will come out."
Woodruff took a late-model Chevrolet Camaro - the vehicle in question - on an extended test drive, keeping the car for three days before returning it due to the way it rode at high speeds, according to Ricky Danley, the new cars sales manager at Long-Lewis Ford in Muscle Shoals.
"He was looking at trading in for a Camaro, so he took it for a couple of days to test drive," Danley said. "He and his wife drove it around, and he brought it back in and said that at certain speeds it was riding rough. I offered to change the tires, but he opted to pass.
"Darren has bought 20 or so vehicles from me in the past 13 years, and we have a good relationship. He never bought the car. He only test drove it."
Russellville High Principal Tim Guinn spends his morning monitoring the student parking lot. He said he has never seen Calloway drive any car, much less a Camaro.
"I don't believe any of these allegations are true. No, not one of them," Guinn said. "Between me and the assistant principal, we're in that lot every day, and … we've never seen Brent driving. Now he's gotten into a car as a passenger, but never a driver. He does not have a parking space on campus. Word would have gotten back to us if he was driving a new car."
As for Calloway missing school in the days before signing day, Guinn said he approved the time off, although he doesn't know if Calloway left the state or not.
"'Peaches' called me and said that Brent was under a lot of pressure. He was getting a lot of phone calls and unannounced visitors at his house. He felt it was in Brent's best interest to leave school for a while.
"This is something that we do for every child, not just athletes. I have excused a child for a mission trip. I have excused a child for a hunting trip with his dad. I've approved multiple family trips. This isn't something we did just for Brent."
Reach Aaron Suttles at aaron.suttles@tuscaloosanews.com or at 205-722-0229. Follow him on Twitter at http://Twitter.com/AaronSuttles