'Elite' pass rusher Drew Sanders ready to show his skills at Alabama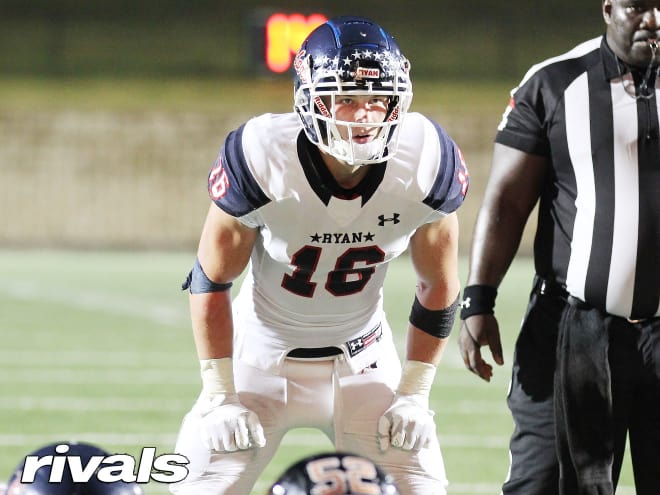 While most kids his age were busy drawing pictures for their parents, Drew Sanders was thinking up a playbook. At five years old, he came to his father with a few suggestions.
Even back then, it was clear the Alabama freshman linebacker had a future in football.
"He brought me a playbook that he had written. It was a very good playbook, but I couldn't use it," his father, Mitch Sanders, recalled with a laugh. "There would have been like 20 guys on offense and maybe three or four on defense. He'd be mad that I didn't run that play.
"From the time he was probably five, I could not shake him on a Saturday. Whether it was going to my office at the school or coaches meetings, he would always sit in there. I think football IQ wise, he learns that stuff pretty quickly."
Mitch, who currently serves as the offensive coordinator at Ryan High School in Denton, Texas, has coached his son since his pee-wee levels back in Oregon. During the summer of 2016 leading into Drew's freshman year of high school, the Sanders family made the cross-country move to Texas as Mitch got a job at Lake Dallas High School. The following year, Drew followed his dad to nearby Colleyville Heritage before switching again to Ryan for his junior and senior seasons.
Three high schools. Three different systems. No problem for the highly-rated recruit.
Last week, Mitch dropped his son back off at Alabama as Crimson Tide players reported for voluntary workouts. Now, the four-star outside linebacker will take the initial steps toward tackling his fourth system in five years.
Those familiar with him are confident that won't be an issue.
"You've got good, and then you've got elite"
Following toilsome practices under the unforgiving Texas sun, Ryan High School players are faced with a decision. Straight down the hallway is the door to the school's exit. To the left, the door to the team's weight room. Come 5:30 p.m., defensive coordinator Shane Tolleson knew where to find his star athlete.
"Drew Sanders is always making a left," Tolleson said. "As everybody's going down the hall, he always made a left. I always used him as a reference. I'd stop a player and say, 'Hey, you told me you want to be great, right?' The player would go 'Yes sir.' I'd just say, 'Well, look who's going to the left.'"
To be fair, no one frequented the weight room more than Drew, not even the Ryan coaching staff. Tolleson still remembers being caught off guard during weekends as he returned to the school to start putting together the team's game plan.
"I'm up there one Saturday, and next thing I know I hear some weight clanging," Tolleson said. "I'm like, 'Who the hell is here.' I go in there, and it's Drew Sanders — shirt off, earphones on, just him and his character.
"We used him as an example a lot of what great looks like. You've got average, you've got good and then you got elite. Drew was elite."
Drew's numbers at Ryan speak for themselves. The do-it-all star played on both sides of the ball, lining up at linebacker and defensive end on defense and Wildcat quarterback and receiver on offense.
He was named the SportsDayHS Utility Player of the Year in 2018 after recording 17 touchdowns on offense while piling up 119 tackles, including 10 for a loss with eight sacks on defense. That season also saw him tally three interceptions, two of which were returned for scores.
Last year, Ryan decided to feature him more on offense as he threw for five touchdowns while recording 326 yards and 10 scores on the ground as well as 34 receptions for 717 yards and 12 more scores through the air.
Due to the practice time Drew missed on the other side of the ball, Ryan elected to move him from linebacker to defensive end. He responded by recording 54 tackles, including 21 for a loss with 11 sacks, while also intercepting two passes for touchdowns.
Interestingly enough, Drew's elite production came without him participating in live reps during practice. Coaches learned early on that it was better to keep the 6-foot-5, 230-pound wrecking ball on the sidelines during "good-on-good" drills in order to keep the rest of the team healthy.
Tolleson recalls one of Drew's initial practice reps where he was lined up at receiver. After catching a slant over the middle he squared up against an unfortunate teammate and "ran smooth over the guy."
"We could not put that guy up against our starting offensive tackle," Tolleson said. "I jumped his butt so many times because he didn't have a three-quarter speed… 'I said, 'Drew, what the hell is wrong with you? We need that kid. What are you doing?' When he has that helmet on, he's different. Every time he tackles a guy, he tries to break them."
A recipe for success
Before Drew was throwing opponents to the turf, he was pinning them down on the mat. From the age of 5, his father put him in wrestling, shuttling him across the nation to compete in freestyle and Greco-Roman tournaments.
The Sanders family took wrestling seriously, sending their son to train with gold-certified coaches such as Roy Pitman and Marc Sprague — both of whom have trained Olympic wrestlers. Had it not been for football, Drew's future would have likely been on the mat. Sprague still remembers training the tall, lanky redhead who showed plenty of promise in the sport.
"He was a hard worker, and he was real coachable," Sprague said. "The message you try to get across is that you've got to be coachable. You've got to be like a sponge. You've got to be anxious to learn, suck this stuff up and try to find the golden nugget in every message the coach gives you. He was like that. I think he enjoyed it. I think he loved being in the room, and he loved the grind."
Embracing the grind is a mantra that has stuck in the Sanders household to this day. From the age of 6, Drew has taken part in home workout programs such as P90X while constantly trying to create as much power without adding any unnecessary body weight. Along with an unrelenting work ethic, that process also required strict dietary habits
That's where his mother, Shelly Sanders, took over.
Sunday's have long been designated for meal prep as the working mother maps out her son's lofty dietary needs for the week.
It takes a lot to fuel a growing linebacker. A typical day during football season includes two breakfasts — one before his workout and one after — lunch, a pre-practice meal and then dinner. That doesn't account for the protein shakes Drew downs throughout the day.
During football season, Drew typically takes in somewhere between 4,000 and 5,000 calories per day. Shelly makes sure most of that comes from her home cooking. Her son's favorite being her famous breakfast burritos.
"He brings this grocery bag to school," Tolleson said. "He's got a backpack on, and in his right hand, he's got a sack full of food. In his left hand, he's got a gallon of water. That's him walking through the halls of Ryan High School."
Drew's disciplined regimen came in handy this offseason as the early enrollee missed out on his first spring camp at Alabama due to the novel coronavirus. While weights and equipment were hard to come by back home, the freshman linebacker was able to find a friend with a full power rack in his garage for daily workouts. That, along with a steady supply of meals from mom, helped him maintain the weight he put on during his first few months at Alabama.
According to his father, Drew arrived back home at 6-foot-5, 237 pounds, seven pounds heavier than when he first reported to Alabama in January.
Instant impact
As a football coach himself, Mitch couldn't help but eavesdrop on some of his son's responses during Zoom calls with his position group this offseason. From what he could hear, it sounds like the freshman linebacker is catching on quickly to the Crimson Tide's defense.
"I kind of understand what's going on and whatnot, and I feel like he's done really well with it," Mitch said. "We obviously won't know where he truly is until he gets out there on the field with pads on, but I think he's at a good spot right now."
Unlike high school, Drew will have the opportunity to fine-tune his skills at one position as Alabama sees him as the perfect edge rusher at either the Sam or Jack linebacker positions. He should also be in line to compete for instant playing time at either spot as the Tide lost its top two pass rushers in Anfernee Jennings and Terrell Lewis this offseason.
At the moment, Tolleson describes Drew as a "see-ball, get-ball" pass rusher, stating, "when you get him not thinking and going full speed, he is a monster." Although, given Drew's athleticism and ball skills, the defensive coordinator said he could see his former star defender developing quickly into a three-down linebacker at the next level.
"If there is any kid on this planet who I think could start as a freshman at Alabama, Drew Sanders is it," Tolleson said. "Where, how much reps, I don't know. But he is a kid who can go in there and make an impact right away."
At least, that's the way the freshman linebacker has it drawn up.
"I think his confidence is as high as it can be going into June," Mitch said. "He feels like he has the opportunity to go in and contribute right away. In the two and a half months he was there, he really got a feel for the position and other players in the room. I think he feels really good about his chances to go there and compete."