Crimson trio turning pro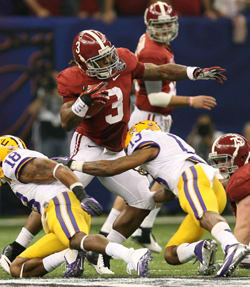 TUSCALOOSA | University of Alabama juniors Dont'a Hightower, Trent Richardson and Dre Kirkpatrick have opted to enter the 2012 NFL Draft a year before their college eligibility has expired. Kirkpatrick and Richardson announced their intentions at a news conference with coach Nick Saban, though Hightower did not attend.
Richardson called the news conference "a sad moment and a happy moment," reflecting not only on his million-dollar future in the NFL but on the people and times he will miss at UA as well.
"I am going to leave here and try to represent Alabama in a Class A way," Richardson said. "I'm going to go into the draft this year."
Said Kirkpatrick: "It was a blessing to have an opportunity for (UA) to open their doors the way they did to me and my family ... This is a family decision, and I am going to be leaving, going to the NFL, to try to better myself and better my talent."
The three are expected to be prized choices in the draft, with Richardson and Kirkpatrick projected as top-ten picks in the first round by nfldraftscout.com. Projections on Hightower have varied more widely, but nfldraftscout.com ranks him as the second-best inside linebacker behind Boston College's Luke Kuechly. The online publication rates Richardson and Kirkpatrick as the No. 1 player at running back and cornerback, respectively.
Richardson, Kirkpatrick and Hightower all said before the Crimson Tide's 21-0 BCS Championship Game win over LSU that they planned to consult with their families and coach Nick Saban before making a final decision. Along with feedback from the NFL Draft Advisory Board, Saban also provides potential early draft candidates with feedback from his contacts in the NFL, which he recently said include representatives from nearly half the league. Saban has said he endorses early draft eligibility for those players projected as first-round picks, but typically encourages others to stay in college.
"We are 100 percent supportive of both of these young men in terms of what their choice is and what they choose to do," Saban said of Richardson and Kirkpatrick. "They've been great ambassadors, great representatives for the University of Alabama as people, students and football players."
All college underclassmen face a Jan. 15 deadline to declare draft eligibility. Those who declare then have a 72-hour window in which they are allowed to change their minds and withdraw from the draft in order to maintain college eligibility.
Several Alabama underclassmen projected as potential NFL Draft picks have already declared their intention to stay at Alabama in 2012, most notably offensive lineman and Outland Trophy winner Barrett Jones. Others who have said they intend to stay at UA include offensive tackle D.J. Fluker and offensive guard Chance Warmack. Among seniors, Alabama's top draft projections include safety Mark Barron and linebacker Courtney Upshaw.
Alabama placed a school-record four players in the first round of the 2011 draft, three of whom were underclassmen (Mark Ingram, Marcell Dareus, Julio Jones). The lone senior was offensive tackle James Carpenter. UA could match or beat that total in 2012.

Click
Here
to view this Link.Richardson averaged 129 yards per game this season while breaking Mark Ingram's Alabama record for single-season rushing yardage (1,679) in one fewer game than Ingram played when he set the mark in 2009. Kirkpatrick is a two-year starter for the Crimson Tide and made 30 tackles in 2011 with nine pass breakups and two forced fumbles. Hightower, a fourth-year junior, led UA in tackles with 85, along with 11 tackles for loss, four sacks and an interception.
Saban said President Barack Obama phoned him prior to the news conference to congratulate Alabama on its BCS National Championship win over LSU, and to invite the team to the White House for a visit, as is customary for the national championship team. UA visited the White House two years ago after winning the title as well.
Click below for a Tidesports.com photo gallery from the BCS National Championship Game of Hightower, Richardson and Kirkpatrick.

Click
Here
to view this Link.