Column: Success breeds success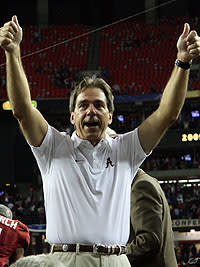 TUSCALOOSA _ Entering the final quarter the entire University of Alabama team held up four fingers and the fans did likewise in response. Individually they emphasized words like "finish," "confidence" and "leadership."
Only this wasn't football Friday night, but gymnastics, with the No. 2 Crimson Tide pounding out an impressive victory over No. 6 Florida at Coleman Coliseum, 197.425-196.6. Although the young Gators had their best road performance of the season, once Alabama got a lead it didn't let up.
It was somewhat remindful for another recent matchup between the schools, when Nick Saban guided an impressive performance in the Georgia Dome en route to the BCS national championship. One has to wonder if it's rubbing off a little.
"I think when he came and talked to the kids last year, the one thing he said to them was when you're at the top don't settle," gymnastics coach Sarah Patterson said. "He went into what happened when they got beat by Florida and Utah and wasn't afraid to address it. I think they remembered it."
Last season, Alabama had its best meet at the national championship and still came away with a second-place finish. It's kept that hunger, though, and as the midway point approaches the Tide is probably the team to beat for the national championship.
This isn't to suggest that gymnastics suddenly started to win just because the football team did, far from it. Patterson and her husband David won their first of four national titles before not only Saban but Gene Stallings (1988, 1991, 1996, 2002).
These things can be contagious, and when one team gets hungry and has success others can feed off it.
Factor in softball, which is ranked second nationally and opens the season this weekend against No. 9 Missouri, and this is probably Alabama's best chance ever to win multiple titles during the same academic year. While the Tide appears to have its usual prolific offense, Alabama returns the starting pitchers from last year's College World Series team and added another into the mix.
Meanwhile, the gymnastic team's strength is that it has extremely talented sophomores who are acting like seniors.
"We were on a mission," Geralen Stack-Eaton said after having a career-best night to win the all-around, and in the process scored 9.925 on vault, 9.875 on bars, 9.9 on beam, and 9.925 on floor for a 39.625 total. "I just feel we have a lot more confidence in each other and ourselves. We started with a strong point at Auburn and just kept building from there."
Friday was like that too. With senior Ricki Lebegern scoring 9.975 on vault and senior Morgan Dennis closing the night with the same score on floor as both drew a 10 from one of the two judges, Florida never a chance. Overall the Tide had seven 9.9 scores or better compared to Florida's three (all on vault).
"I think our leadership is the biggest change, not only with the senior class but all four classes," said sophomore Ashley Priess, who scored 9.95 on beam to finish second in the all-around. "All of us have something to contribute for us all to be successful."
That kind of balance is also indicative of both a winning program and athletics department. Case in point: UF, which won the 2006 and 2008 national titles in football along with the 2006-7 championships in men's basketball to become the envy of the Southeastern Conference.
"It gave them a lot of enthusiasm, absolutely," Florida coach Rhonda Faehn said about the ripple effect. "We had so much pride in our school and all the other student-athletes because we know what effort (it takes) and how hard it is.
"At the same time, we have to focus on what we have to do and what we can control."
During that same time frame Faehn was close too. Her 2007 squad finished third at the Super Six and she was named the national coach of the year. Over the years the Gator men have taken home NCAA trophies in golf and swimming and diving, and the women in golf, soccer, swimming and diving, tennis and indoor track & field.
Nearly as impressive is this simple question, can anyone name a sport Florida isn't good in?
That's what Alabama should be striving for and has narrowed the gap. It started before Saban arrived with the dramatic improvement of the facilities and UA isn't done yet. Bryant-Denny Stadium is going through another expansion, the $15 million renovation of Foster Auditorium might make it the ideal setting for women's basketball, and the indoor tennis courts need to be rebuilt.
Nevertheless, only now are we beginning to see the impact of president Dr. Robert E. Witt and athletics director Mal Moore's commitment, similar to George Hutcheson Denny (1911-36) using football as a way to improve the university's status and well-being. School officials expect to see a record number of applications for admission next fall, approximately 20,000, and even though Witt's initial goal of 28,000 enrolled students was met early the bar has since been bumped up to 30,000-plus.
The growing pains aside, their success is on display every day. The kind that leads to 12,466 showing up to a gymnastics meet after it snowed earlier in the day, with students in the front row painted in red and the words "Roll Tide" on their chests.
"Don't settle for what you just did," Patterson said was Saban's message last year. "Go to the next level."