Brandon Miller has received threats, accompanied by extra security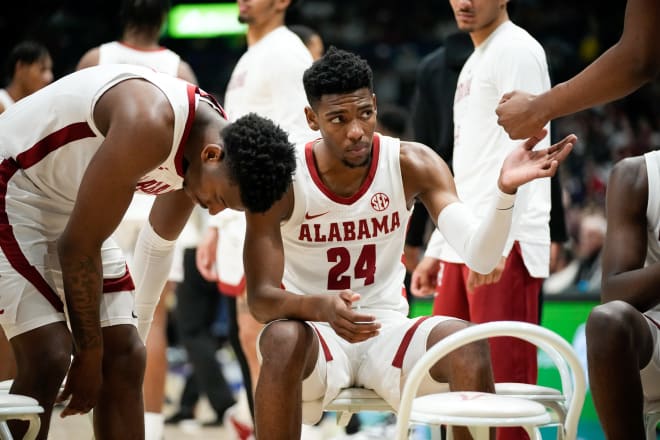 BIRMINGHAM, Ala. — Alabama has arrived in Birmingham for its first-round NCAA Tournament matchup against Texas A&M-Corpus Christi, which comes with a new set of security precautions and routines.
One of the additions is a bodyguard for Brandon Miller who stood off to the side during his media availability at Legacy Arena.
"I feel like we always travel with security," Brandon Miller said. "That's all I'm going to say on that."
Miller has lived in the spotlight since his name was included in a court hearing of the capital murder case that includes former teammate Darius Miles and his friend Michael Davis. While he hasn't been suspended by the team or has faced any discipline from UA, he's heard a fair share of criticism from the media and from opposing fans to finish the season.
From fans chanting "Brandon Killer" to "lock him up," his involvement in the murder of Jamea Harris has seen a constant rise in an off-court response which prompted the need for extra security according to Alabama head coach Nate Oats.
"If you guys saw what I've seen sent his way," Oats said. "I think you'll understand why that's the case. I don't want to get into all of that. The entire situation as you know is a heartbreaking situation on all accounts. But some of the messages are from people that can sit behind fake email addresses but who knows whether he's real or not. It's something that nobody would ever want.
"Nobody would ever want their son, I treat my players like my sons — I don't has a son, I have three daughters — I put myself in his parents' shoes. Our administration has seen what I've seen, and it's appropriate. It's nothing a college kid should have to go through."
With potentially two games in Birmingham, the noise on the court might seem a bit quieter, but questions regarding if Miller should still be with the team have only grown since January. Despite the noise, the freshman continues to rely on his teammates to help him manage the circumstances off the court.
"Like I said before, I just lean on my teammates, really. They are here for me like a family away from home," Miller said "... We know our struggles on and off the court, we know our strengths on and off the court. Just knowing that plays a big part in our success on the court."