Alabamas streak as favorite at 50 games and counting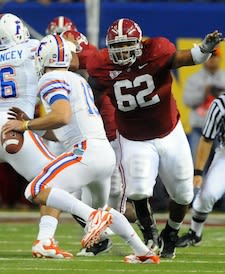 Las Vegas sportsbooks have not listed Alabama's football team as an underdog in 1,440 days.
That's 50 games and counting.
And come Saturday, No. 51 is well on the way to history.
Alabama's game against LSU marked the 50th consecutive game it had been pegged as a favorite by the betting experts, a run that dates back to December 6, 2009. Alabama will roll on to No. 51 against Mississippi State on Saturday, a game Alabama is favored in by 24.5 points.
The 51st straight game as a favorite will surpass Southern Cal's 50-game streak of being favored (2003-07) and is the second longest in college football since at least 1985.
Since sportsbooks are not in the business of bias, the run - and the rarity of the run - is an accurate gauge for the program's recent dominance.
"Yea, it's rare. When you have a team as dominant as they are you couple the fact that they play in arguably the toughest division in college football, it makes it even more rare," said MGM Resorts race and sports vice-president Jay Rood. "You would think at some point here in the last recency, that another team, LSU or whoever, would have been at least a home field favorite.
"But when you have a defense as dominant as Saban has developed this defense into, that's something that's pretty significant, that's something that's pretty important when you're factoring in a pointspread in college football."
While point spreads have been posted by Las Vegas sportsbooks for decades, definitive records dating before 1985 could not be located.
Only Florida State has a longer run; it was labeled a favorite 54 times from 1997-2001.
Alabama's streak began the day after the Crimson Tide knocked off No. 1 Florida as a 5-point underdog in the 2009 SEC Championship Game, meaning the last time Alabama was listed as an underdog, running back T.J. Yeldon was too young for a driver's license and Florida quarterback Tim Tebow was shedding tears on the Georgia Dome turf.
The Crimson Tide was listed as a 3-point favorite over Texas in the BCS Championship game, and off the streak went.
The Crimson Tide has topped some other notable runs by elite programs.
- According to Brian Edwards of BrianEdwardsSports.com, the longest before Saturday, USC, was favored 50 games in a row from Week 2 of the 2003 season until the 2007 Sugar Bowl against Michigan, winning two national titles in that stretch. Including the 50-game streak, USC was favored in 91 of 93 games from 2003 to the middle of the 2010 season.
-Florida was favored in 39 straight games from Oct. 20, 2007 until Oct. 2. 2010 at Alabama. The Gators won a national championship in 2008.
- Nebraska had a stretch of 54 regular season games as a favorite from 1992-97, but it was a streak broken up by bowl games. Nebraska was an underdog to Florida State twice (1992, 1993) and Miami once (1994) in postseason play. It's only true streak was 26 games from 1995-97.
"This is clearly the most dominant streak," said Edwards, a longtime sports handicapper. "Alabama has been playing the big boys of the SEC when Les (Miles) has had it going good at LSU, with Florida having good years, this is more dominant than USC's streak because of competition Alabama has played."
And it's been dominant in every sense. Alabama has been favored by double digits 37 times during the 50-game streak, outscoring teams 1,864 to 551. And in 90 games as Alabama's coach, Saban teams have been favored 82 times.
Since the start of the 2008 season, Saban's second year, Alabama has been tapped to win 73 of 77 games.
It won't be stopping in Starkville, Miss. or Atlanta, or any time soon. Rood said that Alabama will be favored by double digits at Auburn, against any potential foe in the SEC Championship game and, as of Wednesday, Rood said he would list Alabama as a 4-or 4.5-point favorite over the nation's No. 2 team, Florida State, and a 7.5-point favorite over No. 3 Ohio State in January's BCS Championship.
Ironically, if Alabama was favored over FSU in the title game, that would be the 55th straight, besting the Seminoles' run.
"Trust me, I would love to see someone challenge Alabama," Rood said. "It's better for business if we don't have someone quite so dominant. But that doesn't look like it's going to happen any time soon."
- Reach D.C. Reeves at 205-722-0196 or dc.reeves@tuscaloosanews.com.