Why Alabama players won't be skipping White House visit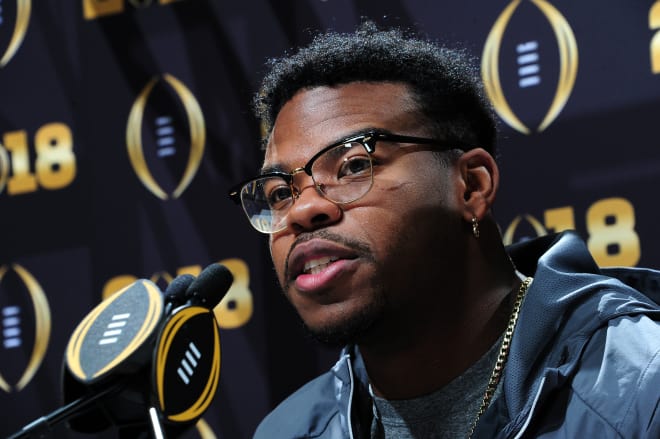 TUSCALOOSA, Ala. — Alabama will travel to the White House on Tuesday and plans to do so with near-perfect attendance.
Since President Donald Trump was elected into office, several sports teams and athletes have declined to visit the White House after winning their respective championships.
Earlier this year, the Golden State Warriors chose to pass on their invitation, opting to visit the National Museum of African American History and Culture to celebrate their 2017 NBA Finals win. Several members of the Super Bowl-winning Philadelphia Eagles have also voiced their intentions to skip the visit out of protest.
That won't be the case for Alabama.
"Coach [Nick] Saban addressed it and just said, 'Hey, we're doing this regardless of your political thoughts. We're going just to celebrate this team. It's an honor. The White House is something that you can cherish forever,"' Alabama offensive lineman Ross Pierschbacher said. "That was basically the extent of that."
Pierschbacher said none of Alabama's players have protested their head coach's request and that the team is unified in its decision to make the trip to Washington D.C. to celebrate its 17th national championship.
In the past, some Alabama players have voiced their displeasure with President Trump, questioning his policies over social media. Damien Harris has been particularly vocal in his political beliefs. On Aug. 30 last year, the running back tweeted a story from the Huffington Post on the Trump administration being undecided on whether to accept aid from Mexico after Hurricane Harvey. Harris comment above the article, stating "This is who y'all voted for."
Harris attended Alabama's White House celebration in March of 2016 when Barack Obama was president. However, this will be his first visit since Trump took office. Despite his political stance, Harris said he's looking forward to making the trip.
"It's an incredible honor for us to be invited to the White House," Harris said. "It's something that comes with being a national champion, so we're really thankful for the opportunity. There's a lot of young guys who haven't been able to make that trip yet, so we're glad we got guys who can go for the first time and experience it the way we did when we were young. The older guys have been there, but we're looking forward to going back again."
Not all of Alabama's players will make the trip. Outside linebacker Terrell Lewis said he will have to miss the celebration in order to attend his grandmother's funeral. However, the Washington D.C. native said he wishes he was able to join the rest of his teammates.
"Me for a personal preference, I wanted to go just for the fact that I've been in the city for a long time and I've never been to the White House, " said Lewis, who grew up 25-30 minutes away from the White House. "It's definitely an honor. You just have to think of it as 'OK, were not going for whatever the political problems are and the president. We're going for the honor of being at the White House."'
Trump was in attendance during Alabama's 26-23 overtime win over Georgia in January. Before the game, Saban said "it would be an honor" to play in front of the president.
"I have great respect for the office of the President of the United States," Saban said during Media Day before the national championship. "And it would be an honor – whoever was in that position – that they chose to come see the college football national championship game."
Alabama will hold its ninth spring practice on Monday before making the trip to Washington D.C. The Crimson Tide will return for two more practices on Wednesday and Friday before holding its second scrimmage of the spring Saturday inside of Bryant-Denny Stadium.