Alabama reveals new numbers for upcoming season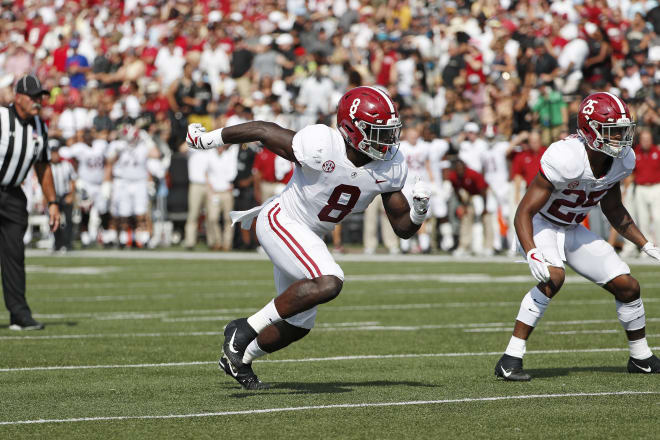 TUSCALOOSA, Ala. — Alabama released its 2018 roster revealing the numbers of its five early enrollees as well as a three number changes.
Junior College transfer Saivion Smith will wear No. 8, while punter Skyler DeLong will take departing punter JK Scott's No. 10. Defensive lineman, Jarez Parks, who grayshirted last year, will wear No. 23, while fellow defensive lineman Stephon Wynn Jr. will wear No. 90. Slade Bolden will wear No. 23 and is listed as a wide receiver on the roster. Bolden was recruited as an athlete.
The most notable number change comes in sophomore linebacker Dylan Moses, who switched from No. 18 to No. 32, the jersey worn by team captain Rashaan Evans last season. Moses also wore No. 8 last year before switching to No. 18. Sophomore safety Xavier McKinney switched from No. 25 to No. 15, taking the jersey of departing safety Ronnie Harrison.
Redshirt freshman defensive lineman Phidarian Mathis switched from No. 93 to No. 48, while redshirt freshman Hunter Brannon changed from No. 50 to No. 62.
Alabama listed nine redshirts from last season including, Brannon, Mattis, Mac Jones, Chadarius Townsend, Tyrell Shavers, Kyriq McDonald, Markail Benton, Kendal Randolph and Joseph Bulovas.
Tight end Miller Forristall, who suffered a season-ending ACL injury against Colorado State last season, received a medical redshirt and is listed as a redshirt sophomore.
One interesting change of note came in junior Trevon Diggs who was listed as a defensive back/ wide receiver. Diggs was listed only as a defensive back last season but played as a receiver during his freshman season.
Incoming freshmen who are not early enrollees were not listed on the released roster.
EARLY ENROLLEES
Savion Smith — No. 8 (6-1, 185)
Skyler DeLong — No. 10 (6-4, 180)
Jarez Parks — No. 23 (6-4, 260)
Slade Bolden — No. 29 (5-11, 200)
Stephon Wynn Jr. — No. 90 (6-4, 308)
NUMBER CHANGES
Xavier McKinney — No. 25 to No. 15
Dylan Moses — No. 18 to No. 32
Hunter Brannon — No. 50 to No. 62
Phidarian Mathis — No. 93 to No. 48