Alabama overcomes 'rat poison' in victory over Texas A&M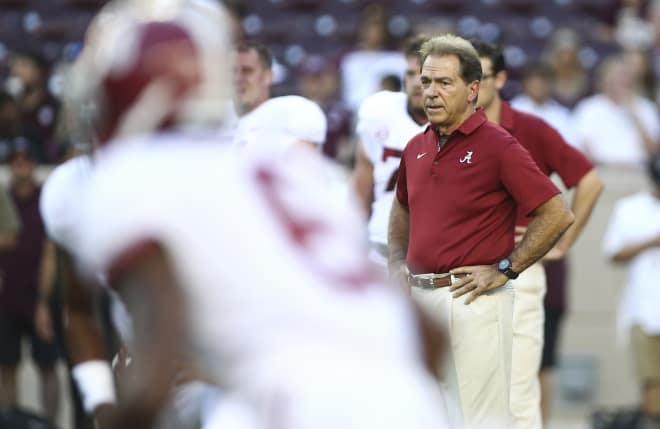 * INSTANT ANALYSIS: Alabama survives comeback to down Texas A&M

* Post Game Notes: Alabama 27, Texas A&M 19
COLLEGE STATION, Texas — Wins like this make Nick Saban sick.
Of course, the Alabama head coach is happy his team was able to pull out a 27-19 victory on the road against Texas A&M on Saturday night. Any win in the SEC is celebrated, especially in Alabama's case as it moved to 6-0 and 3-0 in conference play.
However, you'll understand if Saban, a known hater of complacency, left College Station feeling a little nauseous after his team nearly blew a 24-3 lead in the second half. After all, Saturday's performance was a stark difference from the Crimson Tide's previous two SEC games where it outscored opponents a combined 125-3.
Perhaps what upsets Saban the most is that he believes the praise his players received from those two games led to Saturday's letdown.
"I'm trying to get our players to listen to me instead of listening to you guys," Saban told the media following the game. "All that stuff you write about how good we are and all that stuff they hear on ESPN, it's like poison. It's like taking poison, like rat poison. I'm asking them, 'Are you going to listen to me or are you going to listen to those guys about how good you are.'... We're not going to be everybody 66-3."
Alabama came into the game as 25.5-favorite, according to VegasInsider.com. It was coming off a 66-3 win over Ole Miss the previous week, it's biggest margin of victory since 1979. Still, players claim they didn't come into the game overconfident.
"As a team, we don't pay attention to any of that," Alabama defensive back Minkah Fitzpatrick said. "The last two weeks we had a whole lot of rat poison going into the game, and we came executed, did our job. I think this opponent was just a little bit more and a little bit more than we expected I guess you could say. They're a great team and we respect them a lot."
After heading into the half with a 17-3 lead, Alabama scored a touchdown on its opening drive of the second half as quarterback Jalen Hurts hit freshman receiver Henry Ruggs for an 8-yard score to put the Tide up 24-3 with 11:01 to play in the third quarter. At that point, it appeared as if Alabama was on its way to another blowout victory.
The Aggies had other plans.
Texas A&M limited Alabama's offense to just 110 yards in the second half. Meanwhile, the Aggies began chipping away at the score. Following a fumble from Alabama receiver Robert Foster, the Tide's first turnover of the season, Texas A&M got the took over at the Alabama 36-yard line. After driving down to the goal line, Aggies quarterback Kellen Mond was able to connect with receiver Christian Kirk for a 2-yard pass on fourth-and-goal to cut the lead to 24-10 with 1:39 to play in the quarter.
The Aggies would scratch a little closer when a blocked punt in the end zone resulted in a safety, bringing the score to 24-12 with 10:18 to play in the game. A 44-yard field goal from Alabama kicker Andy Pappanastos made extended the lead back to 27-12 with 2:09 to play. However, a late scoring drive capped off by a 1-yard run from Mond set up an onside kick as the Aggies cut the lead to 27-19 with 17 seconds remaining.
Fortunately for Alabama, Fitzpatrick recovered the ball, returning it 39 yards before the Tide kneeled to end the game the following play.
Frustrating, but not crippling.
"Are we happy, are we pleased.? No," Hurts said. "But we are happy that we can walk out here with a win."
Following the win, several Alabama players were asked if they needed a game like this as a 'reality check' after a couple of landslide performances.
"I wouldn't call it a reality check, I would just say that we needed this test," Alabama running back Damien Harris said. "I would just call it a test rather than a reality check. Not every game is going to be like that. The farther we go into our schedule, we know that the harder it's going to get."
Alabama will return to Bryant-Denny Stadium next week when it takes on Arkansas (2-3, 0-2). That game marks a three-game homestand for the Tide as it will then host Tennessee before having a bye week and another home game against LSU.
"There's a lot to learn, man. There's a lot that we can learn from," Saban said. "We've got a lot that we can do better, there's a lot that we can do. Sometimes when bad things happen, people actually respond better than when good things happen. So we are looking forward to seeing how our players respond to this."