Alabama, Creighton have different playing styles
TUSCALOOSA | The styles of play are so different that it is almost like the University of Alabama basketball team and its opening opponent in the NCAA Tournament, the Creighton Blue Jays, are playing two different sports.
Creighton prefers a fast-paced, wide-open offense-first style with cursory attention given to the defensive end of the floor. Their star, Doug McDermott, is the leading scorer in the entire NCAA Tournament field, and the No. 3 scorer overall in the country.
Alabama, meanwhile, plays at a much slower pace in the halfcourt and relies on a powerful defense, not only to deny the opponent but also to generate much of its own scoring power. The Crimson Tide has had special difficulty against zone defenses - so, naturally, Creighton traditionally plays little zone.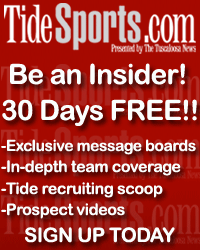 Like many teams from outside the Southeastern, though, the first thing Greg McDermott noted in his Monday teleconference wasn't statistical, but athletic.
"The biggest challenge is just their length across their entire roster," he said. "Outside of (Trevor) Releford, their wings are all 6(-foot)-5, 6-6 and very long, very athletic. (There are) problems that (JaMychal) Green poses for us inside, along with (Nick) Jacobs, with his length and size. Collectively, their length and athletic ability is superior to anybody that we've seen. That's going to pose us some problems. We've got a week to prepare for that as best as we can. Our offense has been very efficient and Alabama's defense has been outstanding, so something's got to give."
The elder McDermott didn't overlook the obvious in his film study - Alabama struggles with perimeter shooting - but didn't sound committed to playing zone against the Crimson Tide for 40 minutes, either.
"They've been inconsistent shooting the basketball from the 3-point line," McDermott said. "It appears catching some of their league games on the Internet that a lot of teams have chosen to zone them in their conference play. That isn't exactly our cup of tea. It's not what we like to do. But it's obvious that the key to being successful against Alabama is making sure you don't turn the ball over and give them easy baskets in that regard, and also to keep them out of the paint. They're very explosive going to the basket and, of course, they throw it in to Green on the block a lot. That will be a challenge for us, but one that we're excited about."
Alabama coach Grant, on the SEC's Monday teleconference, was not so quick to dismiss the Creighton defense, including the possibility of a steady diet of zone from the normally man-to-man Blue Jays.
"It's a game," Grant said. "We've got to prepare for whatever we face. They're a very good team, like I said before. So we'll prepare for anything and everything we need to be prepared for."
Grant also did not tip his hand on how he would matchup with the 6-7 Doug McDermott and his 23.2 points-per-game average.
"He's got great size and physicality. He's a guy that can score around the basket, very good with his back to the basket, but also has the ability to step out and has NBA range in terms of the way he shoots the basketball. He's a mismatch type of guy because he can go inside and score and then also hurt you from the perimeter. So we've got to do a good job on him, but they've got several other guys around him that are good players as well."