Alabama Board of Trustees approved contracts for Bala, Rees, Steele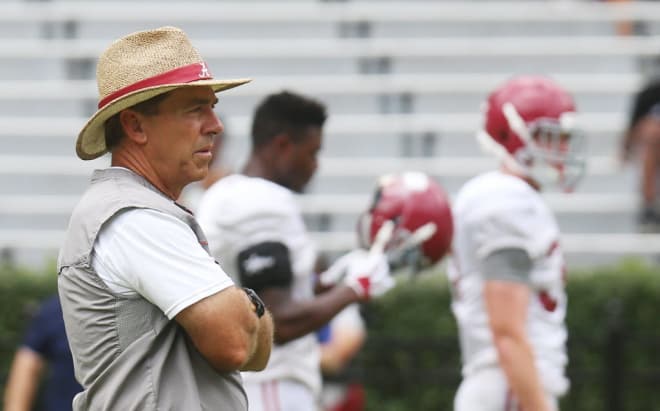 The Board of Trustees of the University of Alabama met Monday and approved contracts for new coaching hires Robert Bala, Tommy Rees and Kevin Steele as well as raises for the other eight assistant coaches.
Joining the Crimson Tide in the offseason, Bala is signed through 2025 while Rees and Steele have contracts that extend through 2026. Bala will lead the linebackers this fall while Rees and Steele assume the offensive and defensive coordinator positions, replacing Bill O'Brien and Pete Golding who both took jobs with different teams.
"We are excited to bring in such a gifted group of coaches to develop our players both on and off the field," Alabama head coach Nick Saban said earlier this spring. "Kevin, Tommy and Austin have a great mix of energy, enthusiasm and experience that will be a tremendous asset to our program. They are all excellent teachers of the game and fantastic recruiters who bring a wealth of experience and resources to our staff."
The returning assistants that received contract extensions included tight ends coach Joe Cox, running backs coach Robert Gillespie, outside linebackers coach Coleman Hutzler, defensive line coach Freddie Roach, wide receivers coach Holmon Wiggins and offensive line coach Eric Wolford.
Strength and conditioning coach David Ballou and UA Director of Player Personnel Bob Welton also received extensions on Monday.
Below is a full list of new contracts for assistant football coaches and other staff members:
Robert Bala — $350,000 through Feb. 28, 2025
David Ballou — $725,000 through February 2026 (up from $700,000)
Joe Cox — $425,000 through Feb. 28, 2025 (up from $325,000)
Robert Gillespie — $625,000 through Feb. 28, 2025 (up from $565,000)
Coleman Hutzler — $595,000 through February 2025
Tommy Rees — $1.9 million (plus a $100,000 salary increase each year) through Feb. 28, 2026
Freddie Roach — $775,000 through February 2025 (up from $750,000)
Kevin Steele — $1.9 million through Feb. 28, 2026
Bob Welton — $255,000 through Feb. 28, 2025 (up from $235,000)
Holmon Wiggins — $875,000 through Feb. 28, 2025 (up from $850,000)
Eric Wolford — $925,000 through Feb. 28, 2025 (up from $900,000)