Alabama beats Georgia for SEC Championship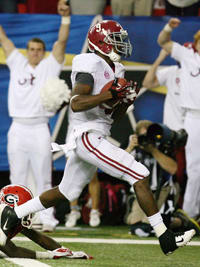 ATLANTA | For Alabama, the dream is in hand -- again. For Georgia, it lay just five yards out of reach.
In an epic game of momentum changes, great plays, head-scratching decisions, special teams miscues, more momentum changes, power running and powerful emotion, Alabama won its 23rd Southeastern Conference championship with a 32-28 victory over the Georgia Bulldogs. The victory will put Alabama into its third BCS Championship game in four years, with only today's formal announcement of the Crimson Tide and Notre Dame remaining.
It did not come easy, as Alabama needed every second of the sixty minutes and 95 yards of the 100-yard field to win.
The Crimson Tide had taken a 32-28 lead with 3:15 to play when AJ McCarron found Amari Cooper running free behind a tired Georgia defense and hit him for a 45-yard score. But after the two tams exchanged punts, Georgia got a final possession with 1:08 remaining and moved from its own 15-yard line to the Alabama 5. The drive included an overturned interception ruling and seemed to have lethal ramifications for Alabama's hopes when Georgia quarterback Aaron Murray found tight end Arthur Lynch for a 26-yard gain to the Crimson Tide 8. With 15 seconds remaining, Georgia opted against spiking the ball and threw a pass designed to go to the end zone. Instead, it was tipped by Alabama linebacker CJ Mosley and landed in the arms of Georgia receiver Chris Conley at the 5-yard line. But with no time outs remaining, Georgia could only watch helplessly as the final seconds ticked away.
"It was first down," Georgia coach Mark Richt said. "The clock stopped while we were getting to the line of scrimmage. We called a play named "Stout," where we were attempting to throw to Malcolm Mitchell in the end zone. But the ball got batted and unfortunately landed in the hands of our receiver. The ball got batted. What can you do?
"You would like the receiver to have the presence of mind to bat the ball down, but I don't think there is a player in America that would think to do that.
"There was no need to spike the ball. We had the play we wanted."
TIDESPORTS.COM VIDEO
The ending was the highlight of a game filled with great performances. Alabama dominated the line of scrimmage with its running attack, with Eddie Lacy gaining 181 yards and earning Most Valuable Player honors, while his freshman teammate, TJ Yeldon, added 153.
Still, after a blocked field goal attempt in the third quarter was returned by Georgia's Alec Ogletree for a 55-yard touchdown, Alabama trailed 21-10.
Instead of panicking, Alabama kept pounding. Lacy and Yeldon each had touchdown runs as UA went back ahead 25-21 with 14:57 to play. Georgia regained the lead on a 10-yard scoring run by Todd Gurley, setting the stage for Cooper's winning touchdown and the late-game heroics for the 12-1 Crimson Tide.
"I couldn't be prouder, not only for the way they competed in this game but for the way they have come back all year," Alabama coach Nick Saban said.
"This conference will test your mettle. We beat a really good team out there today. We really couldn't handle their pass rush and it was difficult for us to throw the ball, but you have to give our offensive line a lot of credit for getting a hat on a hat."
"It wasn't our best game," Lacy said. "But we were able to stay and weather the storm."
Reach Cecil Hurt at cecil@tidesports.com or 205-722-0225.
[rl]