Alabama basketball rolls past Arkansas to remain unbeaten in SEC play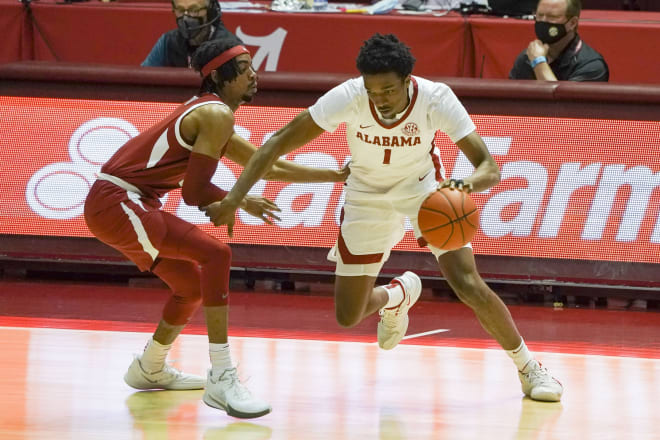 TUSCALOOSA, Ala. — The injury bug bit Alabama basketball this week. Although, the sting wasn't enough to stop the Crimson Tide from extending its winning streak to seven games. Playing without starting forward Jordan Bruner, Alabama got past a pesky Arkansas, winning 90-59 inside of Coleman Coliseum on Saturday.
Alabama (11-3, 6-0 in the SEC) has not lost in the calendar year and opened conference play with six straight wins for the first time since the 1986-87 season. Arkansas (10-4, 2-4) lost for the fourth time in five games.
Saturday's blowout victory follows an 85-65 victory at Kentucky earlier in the week. It marked the first time the Tide had recorded back-to-back 20-point victories since the 2017-18 season when it downed Lipscomb (86-64) and Alabama A&M (104-67) in consecutive games.
"It was a big win," Alabama head coach Nate Oats said following the game. "We talked about what kind of character we're going to have coming off a big win at Kentucky. Arkansas was coming off a tough loss, and they're a good team and they're going to respond. ... I thought our guys responded great."
Alabama played without starting forward Jordan Bruner, who will be out the next 4-6 weeks after sustaining a meniscus injury to his right knee Tuesday night at Kentucky. Meanwhile, Herbert Jones earned the start despite dislocating a finger in his left hand on Tuesday. Point guard Jahvon Quinerly came off the bench after missing the last three games with an undisclosed medical condition.
During last year's loss to Arkansas, Alabama jumped out to an early 12-0 lead before letting the Razorbacks rally to leave Coleman Coliseum with an 82-78 victory. Saturday, the Tide buried the Hogs in a hole they were unable to escape.
After a sloppy start by both teams, Alabama used a 19-2 run to give itself a comfortable cushion. Arkansas committed nine turnovers in the game's first 11 minutes and opened the game 1 of 11 from the floor. Alabama was able to turn those struggles into fastbreak points, including a transition 3 from John Petty to cap off the early run and put the Tide up 22-5 midway through the first half.
Alabama continued to pour it on early, taking a 42-19 lead into the break. The Tide shot 44 percent in the first half while holding Arkansas to 23 percent from the floor.
Arkansas started the second half on an 8-3 run. However, any thoughts of a comebacker were quickly snuffed out as Alabama continued its offensive barrage after the break. The Tide finished the game shooting 48 percent from the floor, including 42 percent (15 of 36) from beyond the arc.
Five of those 3s were knocked down by John Petty Jr., who became the school's all-time leading 3-point scorer with 265 career makes from beyond the arc. Petty finished with 17 points and four rebounds. Jaden Shackelford also had a productive afternoon with 16 points, including four 3s. Jones rounded out the Tide's double-digit scorers with 13 points and four rebounds
Arkansas guard Moses Moody led all scorers with 28 points while also pulling down a game-high nine rebounds. The freshman was 10 of 25 from the floor, accounting for nearly half of the Razorbacks made field goals.
Next up for Alabama will be a trip to Baton Rouge, La. to take on LSU on Tuesday at 6 p.m. CT.
Petty reflects on making history
The limited-capacity crowd inside Coleman Coliseum took to its feet to recognize Petty during a timeout shortly following his record-breaking 3 in the second half. The senior surpassed Brian Williams, who made 263 career 3s from 1996-99. Following the game, Petty reflected on the milestone while sharing the achievement with his teammates.
"It means a lot to me," Petty said following the game. "But it's also going to be great to celebrate with my teammates because without them I wouldn't be in this position, without getting great shots from them, without them doing their thing, attracting people and kicking it out to me. So as much as it is on me, it's on them as well."
Oats commended his senior guard following the game, stating he hopes Petty reaches many more milestones in the future.
"You like for guys who decide to come back for their senior year to do great things," Oats said. "Us being 6-0 and being in first place and him breaking the school record for 3s made. Hopefully, he can play his way into first-round draft pick status and have a great senior year and get this program to where they envisioned it when they brought that great recruiting class in."
Jones is a 'soldier' 
It's going to take a lot more than a sore finger to slow down Herbert Jones. Heading into Saturday's game, Alabama head coach Nate Oats said the senior forward would be used on an "as-needed basis." Jones not only earned the start but played 22 minutes, recording 13 points on 3 of 4 shooting while adding four rebounds, two steals and a block.
One of his most athletic plays of the night came as he saved an overthrown pass from Petty at the baseline, tipping it back into play to Juwan Gary, who dished it out to Shackelford for an open 3 to give Alabama a 63-35 lead.
Last season, Jones played the final eight games with a cast on his left hand after fracturing his wrist. While Tuesday's performance required a bit less grit, it still showcased the forward's blue-collar mentality.
"We just know that he's a soldier, and he's going to do what he can to play and help us win at all times," freshman guard Josh Primo said.
Following the game, Oats said Jones' finger was "huge" due to swelling on Thursday causing him to miss practice. The senior was able to practice Friday and performed well enough to be cleared for the starting role Saturday.
"If Herb's breathing and he's capable of playing, he's probably going to play," Oats said. "He didn't have a cast on his hand like he did last year, so I wasn't shocked at all."
This Alabama team could be special
It's time to start considering Alabama as a serious contender. Friday, CBS Sports analyst Jon Rothstein tweeted that several SEC coaches believe this year's Crimson Tide team is similar to the Auburn team that advanced to the Final Four in 2019. Stadium analyst Jeff Goodman took things even further when praising the Tide Saturday. While it might be too early to start projecting NCAA Tournament success, this Alabama will be a tough out if it continues to play like this in March.
Heading into Saturday's game Alabama sat at No. 22 in the NET rankings, the third-highest among SEC teams behind No. 4 Tennessee and No. 19 LSU. The Tide already took down Tennessee on the road earlier this month and will travel to Baton Rouge, La. on Tuesday looking to start conference play at 7-0.
After navigating a difficult non-conference schedule, Alabama has now shown it can win amid adversity. Against Arkansas, the Tide was without its leader in blocks and steals in Bruner. Meanwhile, the two players it best trusts to run its offense — Quinerly and Jones — at less than 100 percent.
According to Oats, Bruner is expected to return in 4-6 weeks while the head coach is hopeful Quinerly and Jones will fully recover in the near future. By the time Alabama returns to full strength, it could be one of the more formidable teams in the nation.