Alabama baseball bounced from SEC Tournament with loss to Vanderbilt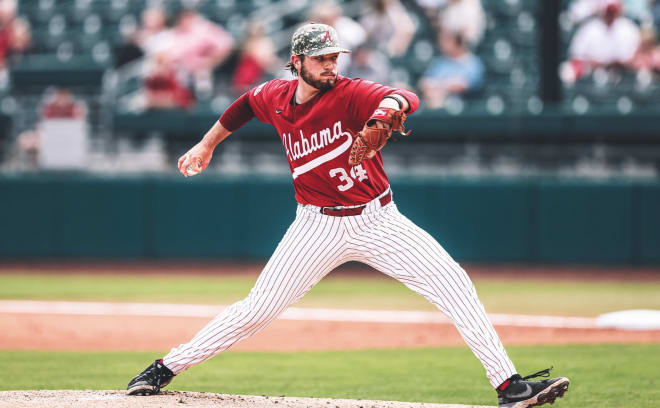 HOOVER, Ala. — A disastrous start Friday night led to the end of Alabama baseball's run in the SEC Tournament. After reaching the 40-win mark for the first time in more than a decade, the Crimson Tide ran out of juice in a 9-2 loss to Vanderbilt.
This week's trip to Hoover was still a success for Alabama (40-19) as it went 2-2 in the tournament, likely doing enough to host an NCAA regional for the first time since 2006. The Tide will learn Sunday night if it is one of the 16 national seeds awarded a hosting site in next week's NCAA Tournament. The rest of the 64-team field will be announced Monday during the college baseball selection show at 11 a.m. CT on ESPN2.
Alabama began Friday at No. 10 in the RPI rankings. The Crimson Tide's two wins this week came against No. 3 Kentucky and No. 18 Auburn, while its two defeats were at the hands of No. 5 Florida and No. 8 Vanderbilt. Counting this week's tournament, Alabama has an 18-16 record against SEC teams.
"When you look back through history, you see the teams that get to 17, 18 [SEC] wins, the track record for hosting is pretty good," Alabama interim coach Jason Jackson said. "So we've got some history on our side and in our favor. I know it's a tough job, but I feel good about where we're at. I think we've done a great job, and we've earned it."
A rough start
Alabama's string of solid starts was snapped Friday as Jacob McNairy was tagged for five runs in the top of the first. The graduate right-hander retired just one of the first five batters he faced, allowing Vanderbilt to jump out to a three-run lead. McNairy came close to limiting the damage, striking out Jonathan Vastine for the second out of the inning. However, a home run from R.J. Austin extended Vanderbilt's lead to 5-0, busting the game open before Alabama could come to the plate.
McNairy settled in on the mound, blanking the Commodores over the next three frames. However, Vanderbilt was able to break things open with three more runs in the top of the fifth, chasing away the starter while extending its lead to 8-2. McNairy finished the night allowing eight runs, seven earned, on nine hits and four walks while striking out six batters over 4⅓ innings.
"He's been one of the best pitchers in this league for the last month, and he's given some really great outings down the stretch here," Jackson said of McNairy. "Tonight, in the first, they got to him. He settled in, threw up some zeros, and then I guess the big thing was just the big innings tonight."
McNairy's rough outing followed three solid performances from Alabama's starters in the tournament as Garret McMillan, Luke Holeman and Hunter Furtado allowed just five combined runs over 16⅔ innings this week.
Leaving them loaded 
Alabama had a couple of chances to dig itself out of its early deficit but was unable to capitalize on either occasion.
The Crimson Tide nearly staged a first-run rally of its own as it loaded the bases for Will Hodo with two outs. However, the designated hitter flied out to center, leaving Alabama with nothing to show for its efforts. The at-bat marked Hodo's first appearance in this week's tournament, as he last played during the Tide's 7-2 win over Troy on May 9.
Alabama loaded the bases again in the bottom of the fourth, bringing red-hot Andrew Pinckney to the plate with two outs. The right fielder, who doubled to left in his previous at-bat, was unable to come through in the clutch, skying a pop-up to second to end the inning.
Alabama left nine runners on base on the night and went 1-for-5 with runners in scoring position.
"I feel it was a really close game," Alabama shortstop Jim Jarvis said. "There were the two innings that kind of separated it. There were like one or two balls in those innings that if they go our way, it's a completely different game. They found some holes, and we didn't. I think that's just how baseball works. There's nothing you can really do about it."
Missing a few big names 
Jackson made a few notable switches to his lineup, taking out starting outfielders Tommy Seidl and Caden Rose as well as catcher Mac Guscette. Seidl exited Thursday's game with a lower-body injury.
Following Friday's game, Jackson said Siedl was once again withheld as a precautionary measure while Rose had been "banged up for a little while." Guscette was rested after catching three days in a row.
Through three games this week, Seidl went 6-for-12 with a pair of doubles, a home run and five RBIs. Rose went 4-for-13 with an RBI, while Guscette was hitless over 12 at-bats.