A rising Tide lifts all boats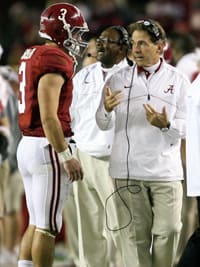 TUSCALOOSA | Bill Battle is only a few months into his tenure as the University of Alabama's athletics director, but he quickly discovered that running an athletic department isn't exactly running a business.
Battle studied UA's athletic budget and realized collegiate athletics has an unbalanced ledger.
"This is an interesting business if you can call it a business, which I guess it is," said Battle, 71, who was hired in March to replace the late Mal Moore, who was at the time hospitalized with a pulmonary condition. "It's like running a company that has 21 divisions and two of them are profitable."
The windfall from football and men's basketball, the only sports with incomes that exceed expenses, fund the other sports - but the model isn't quite as simple as that.
"About half your revenue comes from the business of sports and event management, which I guess is the business side of our business," Battle said. "Most of the other half comes from contributions and donations and Tide Pride and so forth, which is different from any business I've ever been in. That has been interesting."
In the black
Alabama was among 23 of 228 collegiate athletic programs at public schools to turn a profit in the fiscal year that ended June 30, according to data collected by USA Today. UA's net profit for athletics in 2012 was more than $12.3 million, according to documents obtained by The Tuscaloosa News under an open records law request, and the average profit over the last six years has been more than $13 million.
The athletic budget at UA has benefitted from the hiring of Nick Saban as head football coach in January, 2007. Athletic revenue from the fiscal year before his first season as coach was $87 million, and that number has topped $100 million for each year since, averaging more than $120 million over the last five years.
"My new favorite saying is, 'A rising Tide lifts all boats,'" Battle said. "What Coach Saban has done since he's come here is to rise the tide level that has helped lift the athletic department and the university as well."
Alabama's athletic budget, like the tide, has ebbs and flows. It has fluctuated over the past six years, topping out with a profit of more than $31.5 million in 2010 - reflecting an increase of more than $11 million in endowment and investment income from the previous year as well as an increase of more than $6 million in payouts from the Southeastern Conference and NCAA and a rise of more than $4 million in contributions - and hitting a low point with a profit of just under $400,000 in 2008, when expenses soared to above $123 million.
Revenue
A large part of Alabama's jump in revenue can be directly traced to the Crimson Tide's success under Saban. Football income rose from $55.7 million in the year before Saban's arrival to more than $82 million in the most recent fiscal year. And while that is a big gain, it doesn't reflect all of the income that can be traced to football.
"That's had a great impact," Battle said. "It's hard to measure, but what we know is they have generated about two-thirds of the revenue through football and football-related activities.
"Of course, winning the national football championship three out of four years helps the sale of merchandise."
Men's basketball generated nearly $12 million in revenue last season.
"Football and men's basketball are the two profitable sports from ticket sales and television, so we need to keep that healthy," Battle said.
Battle believes revenues can be increased, but doesn't see anything in the near future that will provide a major impact on the revenue side of the budget.
"I don't see windfalls out there right now," he said, "but what I do see are the revenue streams that we have and I think we can improve those. We're trying to study and figure out how to do that better."
Getting more out of the other sports will also be an emphasis.
"I think we've got some really cool coaches and some really cool sports where there are a lot of empty seats at their games," Battle said. "Some of them don't charge admission. We'll work hard at trying to fill up those venues and get people excited about the sports experience in all of our sports, and we want to maximize the marketing opportunities around those."
Expenses
Highly paid coaches like Saban in football ($5.3 million per year) and Anthony Grant in basketball ($1.9 million) add to UA's operating expenses, but Battle understands the cost of doing business.
"I knew we had good coaches and good staff, and they're well-paid according to market conditions," Battle said. "But the revenue side of the ledger is good as well, which is fortunate."
Upgrades in facilities from football to track to tennis in recent years also come at a cost. In the 2012 fiscal year, debt service and maintenance on athletic facilities topped $21.5 million. There is also the cost of scholarships for more than 400 student-athletes at a cost of $20,511 for in-state students and $33,811 for those coming from other states.
"The cost of scholarships was a little bit of a surprise to me," Battle said. "It's pretty expensive to go to college anymore and tuition is a pretty significant expense that takes a good bit of the budget.
"I knew there had been a lot of building going on in the past and I suspected there was a pretty significant debt service in place, and there is."
Finding balance
Battle is committed to having Alabama recruit and develop top-level student-athletes in all sports, to preparing them to compete at high levels and to make sure they get a good education.
He also knows there is a bottom line.
"We are only limited by budgetary constraints," he said. "We obviously have to run a sound business model. We want to continue to improve our facilities, which is a major expense, and doing what we want to do for student-athletes to prepare them for life, which is also a major expense. Given that, we've got to be prudent in how we spend our money. Our objective is to be prudent on the expense side of the ledger and aggressive on the revenue side of the ledger all across the board."
Reach Tommy Deas at tommy@tidesports.com or at 205-722-0224.