A look at Alabama's successful undrafted free agents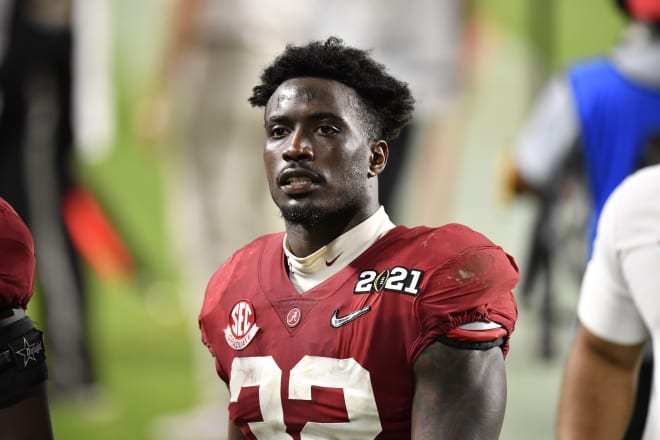 Alabama wrapped up another successful draft class with 10 players selected during last week's NFL Draft. However, one of the major storylines from last weekend was the one Crimson Tide player who didn't hear his name called.
Despite leading Alabama with 80 tackles last season, Dylan Moses wasn't one of the 259 players selected in the NFL Draft. Instead, the former five-star linebacker signed with the Jacksonville Jaguars as an undrafted free agent.
Moses' absence from the draft is largely due to a string of recent injuries as he missed all of the 2019 campaign with a knee injury before playing the majority of last season with a torn meniscus. Despite the setbacks, Nick Saban still believes his starting linebacker was worth a selection.
"It had nothing to do with what kind of football player he is," Saban told reporters during a speaking engagement in Mobile, Ala. on Thursday night. "It was all based on medical grades by the teams, which, frankly, was a little surprising to me. My time in the league, when guys came back and played, that usually got (them) out of that '5' medical grade, which is 'undraftable.' It might have been a '4' medical grade, which means a guy does have an injury that could be a problem in the future, but he's come back and played with it, so we have to give him an opportunity.
"I certainly think that's where Dylan Moses should have fallen for sure, and should have gotten an opportunity, because he played all season long for us. And I think that should be a good enough indicator that he can play in the NFL."
Saban went on to point out that doctors failed quarterback Drew Brees during his time with the Miami Dolphins. Brees went on to lead the NFL in passing seven times with the New Orleans Saints.
While last weekend's draft results serve as an early setback in Moses' path to the NFL, it's far too early to close the book on his professional career. Here's a look at a few recent undrafted Alabama players who went on to have success at the next level.
Levi Wallace, DB 
Levi Wallace started his Alabama career as a walk-on before earning a scholarship prior to his junior season in 2016. The 6-foot, 183-pound defensive back rose to prominence during his senior season when he served as the Crimson Tide's starting cornerback during its national title run in 2017. That season, Wallace led the team with 15 pass breakups while recording three interceptions, including one which he returned for a touchdown. He also registered 48 tackles, including 4.5 stops for a loss and two sacks.
Wallace signed with the Buffalo Bills after failing to be selected in the 2018 draft. So far, his time in upstate New York has been a success. Wallace has started 38 games over his three seasons with the Bills, combining for four interceptions and 20 pass deflections with 161 tackles, including six stops for a loss.
Cam Sims, WR
Cam Sims came to Alabama as a four-star recruit in the 2014 class. However, a string of injuries early in his career stunted his development. Still, the 6-foot-5, 214-pound receiver ended up carving out a significant role in the Tide's offense, starting a combined 12 games during his junior and senior seasons. Sims had 14 receptions for 152 yards in 2016 before recording 14 catches for 207 yards and a touchdown during his senior season in 2017.
After going undrafted, Sims signed with Washington. His NFL career got off to a rough start as he suffered a season-ending ankle injury in the first game of the 2018 season. The following year, he bounced back and forth between the practice squad and the active roster.
Sims finally had his breakout season last year as he recorded 477 yards and a touchdown on 32 receptions. That included seven receptions for 104 yards during Washington's playoff loss to the eventual Super Bowl champion Tampa Bay Buccaneers.
Wallace Gilberry, DL
Wallace Gilberry came to Alabama as a three-star recruit in the 2004 class and left the Tide as one of its best-ever pass rushers. The Mobile, Ala. native contributed all four seasons during his time in Tuscaloosa, Ala., ending his college career with 21.5 sacks and 60.5 tackles for a loss.
Gilberry's best season came in 2007, Saban's first year with the team. That season, the defensive lineman recorded 80 tackles, including 27 stops for a loss and 10 sacks. The 27 tackles for a loss are second on Alabama's single-season record behind Derrick Thomas' 39 in 1988.
Gilberry went on to sign with the New York Giants as an undrafted free agent in 2008. He was then released before the season and signed for the Kansas City Chiefs where he spent the next four seasons. Gilberry went on to play with the Cincinnati Bengals from 2012-15 before splitting time with the Bengals and the Detroit Lions in 2016.
Over his nine-year career, Gilberry recorded 191 tackles and 34 sacks while forcing seven fumbles and tallying six fumble recoveries. His best professional season came in 2010 when he recorded seven sacks and two forced fumbles with two fumble recoveries. That season, he tallied three sacks in a game against the St. Louis Rams.