2011 defense could be among Tides all-time best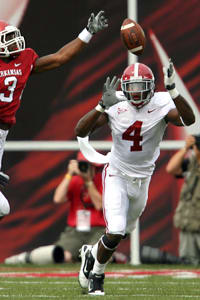 TUSCALOOSA | Take a good look at just about any wall inside The Waysider restaurant on Greensboro Avenue, and you get a feel for it.
Run by the Bryant Museum on campus, and you get an unmistakable dose of it.
Try the dive play on a crucial fourth-and-one in Bryant-Denny Stadium, and you just might get hurt by it.
The University of Alabama's tradition of stout defenses permeates throughout the program's history. And while the 2011 Crimson Tide has yet to make tackle one on a 12-game schedule, there is no shortage of preseason indications this UA defense has a chance to be another special one.
"As long as you've got the right personnel, the scheme is there. It's just a matter of those guys performing. It takes all 11," said Tommy Brooker, who played on a national championship Alabama defense in 1961. It was legendary coach Paul W. "Bear" Bryant's first title season at Alabama. "They're lucky if they don't get people hurt. If they are hurt, it creates a little weakness and somebody's got to step up."
The Crimson Tide returns nearly all of its 2010 defensive starters, including its entire secondary, from a team that finished fifth in the nation in yards allowed (286.4). That's right - the same defense that was short on experience just a year ago gave up fewer yards than all but four teams in the country last season.
And now nearly all of them are back - seasoned, hungry and immensely talented.
But UA coach Nick Saban, for his part, isn't one to assume experience necessarily equals success.
"Just because you've got experience, that doesn't mean anything. What are you going to do with it?," Saban asked rhetorically. "Are you going to use it as a challenge or are you going to use it as a comfort zone? If they go out there and play to their capabilities, they can be pretty good. They've got to make a commitment to it. They've got to want to do it. And we'll coach them every day to get them that way."
So what puts a defense in the annals of the best ever at UA?
Those with a national championship attached to them, naturally, have a way of being immortalized. It's why comparisons of the 2009 defense to that of 1992 are legitimate, and why comparisons of the upcoming 2011 defense with any other, for now, are not.
Brooker's 1961 national championship team, featuring linebacker Lee Roy Jordan, allowed 1.7 yards per play on average and recorded a school-record six shutouts. Only three touchdowns were scored by opponents all season.
Then there are the iconic plays, and, by extension, the iconic players, attached to those defenses. It's the common thread that connects Barry Krauss and the goal-line stand against Penn State with the night George Teague chased Lamar Thomas down from behind and stripped him of the football and of Miami's manhood, all at once.
But Bill Oliver, another of UA's 1961 defenders, believes that Alabama's defensive tradition doesn't begin and end with teams that claim national championships.
"In 1971, we were undefeated during the regular season and (lost to) a great football team in Nebraska," Oliver said. "If we'd played them 10 times, I think they probably would've won 10 times. But what we got out of those kids defensively that particular year was absolutely incredible."
That Alabama team surrendered only 84 points in the entire regular season before allowing 38 to the Cornhuskers in the Orange Bowl. The 2005 Alabama defense led a 10-win Cotton Bowl season, with safety Roman Harper making the season's signature play with a crucial forced fumble against rival Tennessee.
Another UA defense that earned plenty of respect without earning a national title was the 1986 team that went 10-3 against a brutally tough schedule that included Ohio State, Penn State and Notre Dame along with the requisite rigors of the SEC. All-American Cornelius Bennett led that team along with Wayne Davis, who still holds the school record for career tackles.
"The biggest thing about that defense was the offseason we had between '85 and '86," Davis said. "Our strength coach, he really did an awesome job during the offseason all four years I was at Bama. That catapulted us."
Davis isn't making any predictions about Alabama's 2011 defense, but having played on a special defense himself, he's also not one to judge it solely by the championship standard.
"You never know when guys are going to get hurt. But having said that, the potential is definitely there based upon the number of guys coming back, and looking at how they played last year," Davis said. "If they play like they're capable of playing, and based on how college guys improve from one year to the next, I think the potential is there."
A record number of Alabama players, most of them on defense, were named to the media's preseason All-Southeastern Conference team. Preseason All-America teams, from ESPN to Playboy to Phil Steele, laud UA's defensive potential as well.
Five returning starters - defensive backs Mark Barron, Robert Lester and Dre Kirkpatrick, linebackers Courtney Upshaw and Dont'a Hightower - are early candidates for the Bednarik Award, which goes to the nation's top defensive player. Hightower, Upshaw and Nico Johnson are Butkus Award candidates as the nation's top linebacker. The Nagurski Trophy, the Thorpe Award, they all are dotted with Crimson-clad possibilities.
But preseason predictions and game experience aren't all that give this Alabama defense an edge entering this season.
A handful of current UA defensive players have an uncommon perspective on what it takes to win a national championship - they were part of one. Count linebackers Hightower, Johnson and Upshaw, each of whom contributed to varying degrees on the Crimson Tide's 2009 national title team, among those.
"We can be great. I honestly think we could be better than the '09 defense. We still got a lot of work to do, but I seriously think that," said Johnson. "We don't compare ourselves to them ... but as far as trying to do what that defense did, yeah, they won that championship that year. We're going to try to get there."
Safety Barron and Josh Chapman were two others who made significant contributions to an Alabama defense that allowed just 11.7 points and 78.1 rushing yards per game en route to a 14-0 season two years ago.
"I feel like this defense, as a whole, has that ability," Hightower said.
Reach Chase Goodbread at chase.goodbread@tuscaloosanews.com or at 205-722-0196.